You got a new iPhone 5! Now what? Here's a how to get started with a new iPhone, whether you're a first-timer or an iOS pro.
Pre-charging Tip
As with any smartphone, the iPhone's weakest link is its battery. Treating your Li-ion with respect will not only extend the life and usefulness of your new phone, but also boost its resale value—just in case you decide to dump to back on the market prematurely. Lucky for you, Palm, Apple, offers some guidance about how to care for your phone's battery.
What they won't tell you, however, is that you must resist the urge to immediately charge your smartphone. Yup, let that 30-60 percent charge go down to zero before plugging in. Juicing up your smartphone in its half-charged state will make the battery components settle faster. That, in turn, will mean it won't be able to re-charge as efficiently in the future. Ideally, you should always wait for the battery to drain before recharging to maintain good health, but the occasional slip won't matter much. If you really want to understand these fickle little bricks, check out our Giz explains feature on why batteries die.
G/O Media may get a commission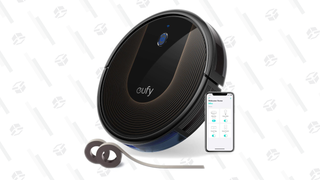 48% Off
Eufy BoostIQ RoboVac
Update: Seems this is incorrect. Li-ion batteries have a finite amount of cycles, and you should actually avoid full discharges if you can help it. Keep your battery topped off as much as possible, and only occasionally run it down, if it seems your fuel gauge is off.
A Quick Overview
The iPhone 5's buttons, cameras, and knobs will be familiar to anyone who's owned—or seen—an iPhone in the last few years, but just so you can be better acquainted with your new pocket buddy, here's a quick look at where everything is (and what everything does).
The biggest change from the iPhone 4/4S—aside from being longer, thinner, and lighter—is that the iPhone 5 has moved the headphone jack from the top of the handset to the bottom. This will impact your life in zero ways. So let's get on to the fun stuff!
Start Up, Sync Up
The easiest part of owning an iPhone is activating it. But actually making it do what you want can be a little trickier.
The first thing you see when you start your iPhone will be a Setup Assistant, which walks you through the process of making your iPhone yours. That's where you'll indicate your preferred Wi-Fi network, enter or create your Apple ID, setting up iCloud, and indicating whether you want Find My Phone (yes) or Location Services (probably) activated. Don't sweat this part; you can always change any of it later in Settings.
Then comes the fun part; filling up your phone with all your contacts, email, movies, apps, and more. You've got two choices here.
The Old-Fashioned Way:: If you've already got an iPhone—or another Apple device like an iPad or iPod—all of your settings and preferences, contacts, apps, and content are already stored on iTunes on your desktop. Easy! So pop over and download the latest version if you don't already have it. Then, connect your phone to your computer with the Lightning cable that came with it (we'll get back to that cable in a bit), and start syncing.
The New-Fangled Way: You can also simply sync up your iPhone over iCloud. During setup, you'll need to connect to Wi-Fi, and select whether you want to set up as a new device, restore from an iCloud backup, or restore from an iTunes backup. Whatever you choose, you simply enter your Apple ID login information (you have to pick just one if you have multiple, though you can change it later). If you're restoring from a backup, your phone will restart, and all of your previous settings will be in place.
If you haven't used iTunes before, you'll want to add your media to it; that's a simple click and drag operation, or you can assimilate entire folders quickly by going to File > Add to Library. Remember, you probably don't need all of your stuff, since you can listen to most music through services like Rdio or Spotify (subscription required), and your phone can access a lot of videos or other docs that live on your hard drive through iCloud, Dropbox, SkyDrive, and other cloud services. It's good to save as much space as you can, especially if you have a 16GB model; you'll find that you fill up on apps pretty quickly.
If you're already set up with iTunes, note that it will sync everything in your account to your phone unless you specify otherwise. To be more selective, you can switch over to manual mode by clicking on the iPhone icon that shows up in the left panel, unchecking Automatically sync in each category that you want to manually control, and individually checking stuff you want on your phone. This is especially useful for music if you've got a massive music library, and the controls are granular enough that you can include (or exclude) specific artists, genres, albums, or playlists. In other words, you don't have to click through song by song.
If you're switching to an iPhone from Android, you can check our our guide to making the switch and getting your contact info, pictures, movies, and other data from your old phone or Google account onto your iPhone.
Load Up on Apps
You can download apps either directly from your iPhone (the App Store comes preloaded), or from iTunes. For a quick rundown of all the apps you need for iPhone, head over to our always-updated list of the best iPhone apps. At the same time, you can check out all the apps that support Apple's new Passbook feature. Right now there aren't too many, but this is hopefully going to be one of the best new conveniences about having an iPhone, so it's one to keep an eye on.
Also, if you only want to use apps that have been updated for the iPhone 5's longer screen, check our our full list here.
Your Old Accessories
You've probably noticed that the iPhone 5 doesn't use the old 30-pin connector that your old Apple products did, and that's rendered your old iPod dock worthless. Don't worry! There are adapters, of course. Really expensive ones. But if you didn't pick one up while you were buying your phone (or if you haven't ripped open the box just yet), you can save some cash by buying the non-stupidly-expensive-Apple versions.
Your New Accessories
Apple abandoned the old 30-pin. Had to be done. But you know what it won't abandon anytime soon? AirPlay. AirPlay lets you wirelessly stream (read: no adapter needed!) your music and movies from your phone or tablet to speakers, or your TV if you have an AppleTV. It's great. Here's our list of the best AirPlay speakers. And you should at least check out the Apple TV set top box—the set top box, not the still-not-a-thing HD TV—since it's going to probably be a big part of Apple's future.
Oh, and also? Don't buy a case. Seriously.
Proper Headphones
The iPhone 5 comes with new EarPod headphones, but they still aren't very good. Instead of getting by with those, you should at least think about getting a decent pair of headphones. We've got recommendations for the best bluetooth, the best noise canceling, and the best not-that-expensive ones out there.
Proper Maps
So Apple's new maps are not the best. No worries, though! you can slap in your own maps and navigation to hold you over until either Google Maps has its own native app (which might be a while) or Apple Maps get better (which might also be a while). For navigation, you can use the very expensive but also very good Garmin Navigon. People also like MotionX and Waze, or you can actually just use Apple Maps' turn-by-turn, since it's one of the better parts of Apple's new maps. And for plain old maps, you can actually still use Google Maps, just on the mobile web client. You can even pin it to your homescreen by visiting the site, pressing the "+" icon in your browser, and selecting Add to homescreen. A web clip shortcut of Google Maps should appear on your homescreen. Good as new (almost).
Wiping Your Old Phone
This one's important. If you are selling your old phone, you need to wipe its data. And not just that. If you are selling an iPhone, you've got to make sure that iMessages stop getting sent to that phone. Here's how you do that.
First, remove your SIM card. If you've got a Verizon or Sprint iPhone, you should be able to deactivate your phone through the carrier website, or you can call them and have it done over the phone. This next step is a big one: Go to Settings > Messages > iMessage and turn off iMessage. This will stop your messages from going to your old phone even after you have erased and started using a new phone. Lastly, go to Settings > General > Reset > Erase All Content and Settings. There you can erase all of your content, and safely sell your device, or give it to your mom, without worrying about someone going through your messages.
Get the Most Out of iOS 6
Remember, you didn't just buy an iPhone, you bought Apple's fancy new operating system. While most of the iOS 6 headlines have had to do with its shoddy new Maps app, there's a lot of great new stuff in there as well. Your camera can take quick and easy panorama shots, there's deeper Facebook integration, and Siri got smarter. Some quick highlights:

And that's just a few of the 200 new features Apple is touting. Check out our full overview of all the best stuff here.
So that's about it! Your iPhone is fully set up, loaded up with all your favorite stuff, ready to download more with its blazing LTE connectivity. And if there are any helpful hints you've come across that we missed here, let us know below!