Waiting around for your lover's cheating heart to tell on them won't get you anywhere. But with these sneaky tracking apps and GPS tokens, you'll know exactly whose bed their boots have been under.
Be warned, however, getting caught stalking your partner's movements can end a relationship just a quickly as being caught in the arms of another. And given that the federal government as well as many states consider installing tracking tools on a device without the owner's consent or knowledge a crime, doing so could land you in hot water with the law. Very hot water, in fact—you'll be looking at anywhere from 5 years to a life term depending on your actions. Know what's kosher where you live before you start playing P.I.
Also, this goes without saying, but you're being a major creep.
---
Software Solutions
Modern smartphones make for excellent tracking devices. They're always with us, always on, and constantly pinging cell towers and GPS satellites to determine their location. The following apps leverage that flow of geodata to provide you with reports as to where the device—and presumably its owner—are in real-time.
G/O Media may get a commission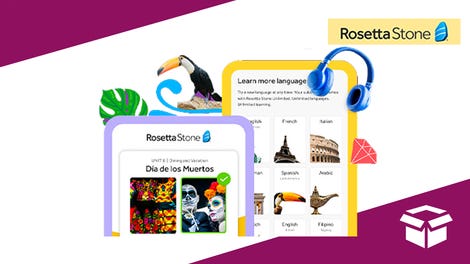 Extra 20% off
Rosetta Stone Lifetime Subscription - All Languages
mSpy
Marketed as a means of keeping tabs on your wandering kids or slacker employees, mSpy logs virtually everything that the target device does, from current GPS coordinates to SMS, voice, and Skype transcripts—it even includes a keystroke logger. It can also be used to block incoming calls, access the target's address book and calendar, monitor its web usage, or remotely lock and wipe the device.
All of these functions are handled via a web-based control panel. The mSpy software can be installed on devices running Android, iOS (you'll have to jailbreak the phone first though), Blackberry, and Symbian OS platforms. The company also sells preloaded phones including the HTC One, Nexus 5, Samsung Galaxy S4, and iPhone 5S if you prefer to deliver your trojan horse as a gift. Once installed, operates invisibly, giving no indication that the target device has been compromised.
mSpy does charge a monthly subscription fee for its service: $40 a month for the basic plan which logs voice, GPS, email, and SMS data and provides access to the device's gallery, calendar, and address book. For the full suite of spy tools, you'll have to fork over $70 a month or $200 annually.
Family Tracker
A less clandestine alternative to mSpy, Family Tracker allows users to ping the target device at regular intervals for its GPS coordinates. You can also "stealth ping" the target device at will to receive real time location updates. However, unlike mSpy, Family Tracker does not delve into the target device's personal content, nor does it operate invisibly. The app appears on the target device's home screen and app menu though it does not have to be actively running to transmit data.
This information is then logged for review through both a web portal and the Family Tracker app installed on your phone. It's compatible with iOS and Android phones and tablets.
---
Cellular Solutions
If you'd rather not have to nick your partner's phone to install a local tracking app, the major cellular companies all offer family tracking plans. Again, these are designed for monitoring the whereabouts of young hellions. However, they can just as easily be co-opted to keep tabs on anyone that's party to the cellular family plan.
Sprint's Guardian bundle allows the subscriber to find, in real-time, the precise location of any phone on the plan via GPS, either at will or, with the Safety Checks feature, at preselected times and days. This could be used to know when or if your child gets home from school or, alternately, be used to learn where your spouse goes every morning after you leave for work that leaves them smelling of ammonia and polystyrene. You can even text the target phone while you track it, potentially catching your lover in a lie.
AT&T's Family Map works much the same way. The GPS-based Family Map service displays the location of the target device on an interactive map with the option to call or text the target. You can also set up automatic check-ins so that the target device will text you whenever it arrives at a pre-selected location. And because the service operates through a web app, familymap.att.com, it's accessible from any mobile device or computer with a web browser. The service costs an additional $10/month on top of your existing family plan and iPhone 5 users will also have to install the AT&T Check-In companion app in order for it to work.
Verizon's Family Locator can be installed on up to 10 devices per account for $10 a month, though really, you'll need just one. You'll first have to activate the service through your My Verizon control panel, then follow a series of SMS instructions to add the Family Locator app on the target's phone (you may want to borrow the target device to avoid tipping them off) and sync the newly-installed app with Family Locator through the My Verizon control panel. Once the system is set up, you'll be able to actively monitor the device's location and receive notifications at scheduled intervals as well as whenever the device departs from or arrives at a specific location.
---
Hardware Solutions
Mobile snooping apps are effective, but only so long as the device they're installed to is turned on and in your spouse's possession. If the phone were left, say, back at their office while your spouse was getting busy in some seedy motel, you'd have no way of knowing that. But with a properly-planted GPS tracking beacon—discretely deposited in a coat pocket or purse, sewn into a jacket's lining, or hidden in their car—there's a better chance of the signal being true, even if your spouse isn't.
Pocket Finder
Weighing just 1.4 ounces, the palm-sized Pocket Finder boasts the "Longest Battery Life for any Personal GPS Tracking Device" on the market. It pings its GPS location every two minutes (adjustable out to once a day) and sends that data either to the company's monitoring web portal or to the free iOS and Android apps. Every ping logs the beacon's exact address, its distance from you, speed, direction, and altitude. It also keeps a 60-day record of its travels. The Pocket Finder retails for $100 with a recurring $13 monthly fee for the reporting service.
LandSeaAir GPS Beacons
LandAirSea offers a pair of GPS trackers: one active, one passive. The Silvercloud Active GPS Tracker pings its satellite every 30 seconds, transmitting that data to the LandSeaAir monitoring website with displays the information on Google-powered maps with detailed travel reports. This data can also be exported to other sites—say, a Facebook wall—if you're of a mind to publicly shame your spouse. It certainly beats renting a billboard. The Silvercloud itself retails for $300 plus $30-$35 monthly for the service.
The passive GPS TRACKing Key, which has been featured on AMC's Breaking Bad, pings once a second but, instead of transmitting it to a remote server, it logs the data locally. While that means you'll have to retrieve the unit and plug it into a PC (sorry, no Macs) before you can see where it's been, it also means that the device can operate for up to a month between chargings. The TRACKing Key retails for $140 and does not incur monthly fees.
---
With these resources at your disposal , proving romantic infidelities should be quite easy. Dealing with the fallout—especially when you reveal how you know what you know—is an entirely different matter. Maybe just try asking first, instead? [CNet - Forbes - Mashable - LogSat]