The AirPlay wireless streaming system makes sharing stuff between your phone and TV incredibly easy—but only if stick with Apple gadgets. Try to share content from an Android and suddenly you're out of luck. But with these third-party streaming apps, Airplay and Android can finally speak the same language.
---
DoubleTwist
DoubleTwist is a triple threat. This freemium media manager is designed to serve not only as a unified music player and podcast manager but also syncs your iTunes media collection—including playlists, music, video, and photos—between your desktop computer (both Windows and Mac) and Android device.
You'll need to fork over $5 in order to unlock the AirSync and AirPlay functions, though that purchase also unlocks DLNA support, an equalizer, album art search, and removes podcast ads. DoubleTwist can stream to any device that supports the AirPlay standard over your existing Wi-Fi network. [DoubleTwist - AirSync ($5)]
---
Allcast
Allcast will gladly beam content from your mobile device to any number of streaming set top boxes and dongles. Not only is it compatible with Apple TV and other AirPlay enabled devices, Allcast also offers DNLA support that allows it to communicate with the Chromecast, Amazon Fire TV, Xbox 360 and One, Roku, WDTV, and a smattering of Samsung, Sony, and Sharp Smart TVs. What's more, Allcast can pull content from connected Google Drive and Dropbox accounts as well as from local storage devices.
G/O Media may get a commission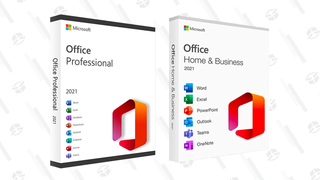 89% off
Microsoft Office Professional 2021 Lifetime License
But, like DoubleTwist, the free version of Allcast is intentionally hamstrung—this time with a five minute playback limit on photos and video unless you spend $5 to upgrade. [Allcast - Allcast Premium ($5)]
---
Allstream
If you're only looking to stream music, or don't want to switch to a new music player (as DoubleTwist requires), Allstream has you covered. Offering both AirPlay and DNLA connectivity, this initially free app acts only as a transmitter. That means you can keep using your preferred music player—be it Spotify, Google Play Music, Rdio, or TuneIn to name a few—while gaining the ability to stream to any existing AirPort Express, Apple TV, XBox 360, PS3, XBMC, or Samsung Smart TV.
Be warned, however, Allstream requires your mobile device be rooted in order to work and will cease to function after a predetermined time limit unless you pay 5 Euro (or the cash equivalent of 5 Euro in your country) to unlock it. [Allstream]
---
AppleTV AirPlay Media Player
As its name suggests, ZappoTV's AppleTV AirPlay Media Player is designed specifically for use with an Apple TV. This free app allows you to beam Android-based content as well as content on your local network and the greater Internet to an AppleTV. Plus, it enables your Android device to function as an all-in-one remote control. Browse, search, and share content from a variety of online sources including video podcasts, YouTube, SHOUTcast, Flickr, Facebook, and Picasa.
You'll need to be running Android 2.1 or later and have a ZappoTV account set up in order to use this app. DNLA and UPnP connectivity (for accessing content on your local network) are only available through an in-app purchase. [AppleTV AirPlay Media Player]
---
Twonky Beam
Twonky Beam is the babel fish of streaming video apps. It's available on both iOS and Android and, thanks to its dual AirPlay-DNLA capabilities, can connect to a wide variety of TVs and streaming boxes, regardless of brand or transmission standard. That includes the Xbox 360, Rokus, Apple TV—even AT&T U-verse systems. It can also share content between devices on your home network using the UPnP standard which allows you just as easily save media from the local network to your mobile device as stream content from your phone to a TV. You'll need to be running at least Android 4.0 or iOS 6 to use the app but it's otherwise free. [Twonky Beam]
---
These are just a few of the myriad of streaming apps built to bridge the gap between your mobile devices and your living room devices. If you've got a favorite app not listed here, tell us all about it in the discussion below.