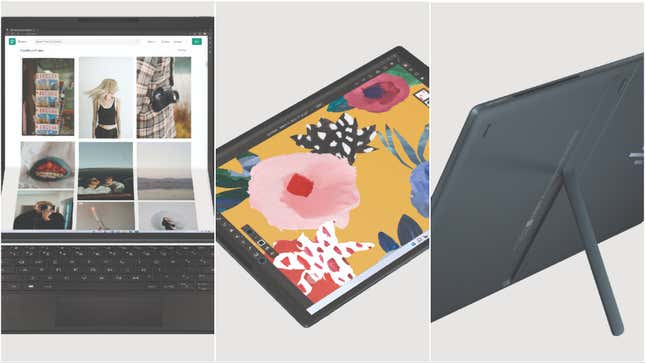 Foldable phones promise us the 2-in-1 experience. There is Samsung's Galaxy Z Fold 5 rolling out in the wake of Google's first device with clapping screens, the Pixel Fold. Each vow they will be users' phones and tablets, all inside your pocket. HP's latest laptop takes the same sort of philosophy and expands it to a full 17 inches. On Thursday, the company revealed the Spectre Fold, a foldable computer with a magnetically attached keyboard that can become a tablet, laptop, or something akin to a desktop computer, thanks to a built-in kickstand.

Is Google's New $1,800 Pixel Phone Worth It? | Gizmodo Review
The Spectre Fold takes the same foldable ethos from current phones but throws a physical keyboard into the mix. At a glance, you wouldn't think the new Spectre Fold is anything but a surprisingly thick laptop for the modern era. Crack it open, though, and the device is essentially one large computer screen that folds up on a hinge into a "U"-shape with a 5mm radius. This leaves space for the magnetically attached Bluetooth keyboard and trackpad to fit snugly inside.
When the Spectre Fold is in laptop mode, the 14-inch keyboard sits on top of the bottom screen. Users can then slide the keyboard slightly back to reveal another half of the bottom screen, and the device will recognize this so that users can place entire applications on this lower bar with the Windows 11 "Snap" functions functions, similar to Samsung's multi-window capabilities.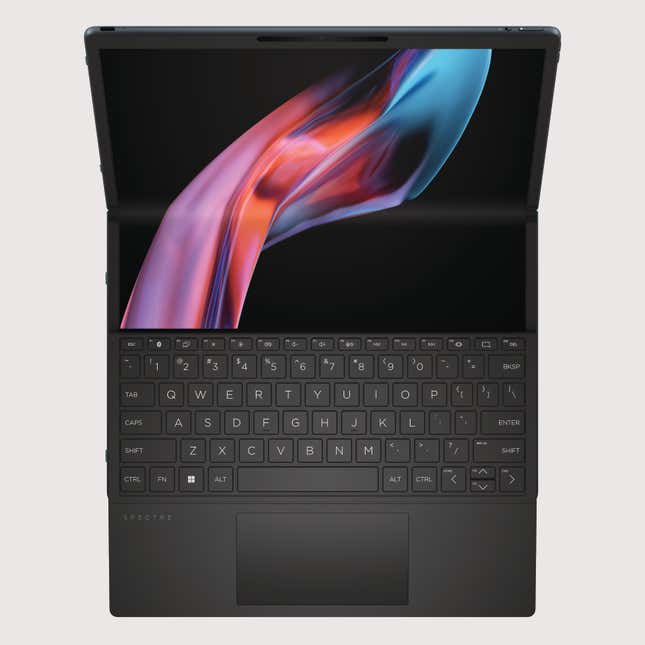 When fully unfurled, the Spectre's screen is a 1920 x 2560 OLED touchscreen. Each side of the foldable is 12.3 inches, but when it's fully unfurled to 180 degrees, the device becomes a massive 17" tablet. That's bigger than the largest iPad Pro and Samsung's latest tablet, the 14.6-inch Tab S9 Ultra. Then, if users really want, they can prop up the screen with a built-in kickstand and set up in front of it with the keyboard for a desktop experience with a hefty monitor. The device also comes with a stylus that magnetically attaches to the device's side. Both the pen and keyboard automatically charge when they are magnetically attached to the Spectre Fold.
If you were thinking this thing is a monster, then you'd be right, but it's also a rather skinny, if slightly hefty. Unfolded, the device is surprisingly thin at just 8.5mm, or just a third of an inch. When it's all folded up, the device is 21.4mm thick, or a little less than an inch. With the keyboard and screen together, it weighs about 3.5 pounds.
HP said it paid particular attention to the hinge design with a full metal backplate supporting the screen when it's in its folded modes. That being said, we don't know how big of a crease there will be, or how noticeable it will be for users who can't stand how the crease catches the light.
The Spectre Fold screams premium in all directions. It's sporting an Intel Core i7-1250U processor plus an in-built Intel Iris Xe Graphics card. There's 16GB of LPDDR5 memory plus a base standard 1 TB SSD. What you see is what you get. There's no color options nor memory options. The company is promising up to 12-and-a-half hours of battery life, The battery itself has been specifically designed to distribute weight throughout the device, so one end isn't heftier than the other.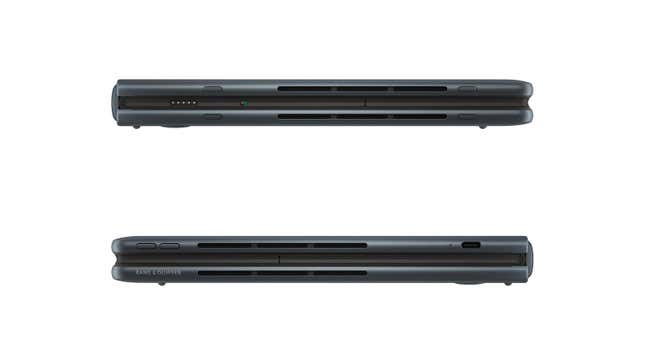 And that's all before getting to its price. The device costs $5,000, and that comes with everything, including the stylus and keyboard. During a briefing, HP's global head of design Stacy Wolff said the company wanted to design a "superior experience," and of course "when you see how we engineered the product, it comes with a cost."
The Spectre series, such as last year's x360 16, had already pushed the "convertible" 2-in-1 ethos. Still, the HP Spectre Fold isn't the first product to push a larger, premium foldable screen product. Samsung has shown off its own foldable laptops like the 13-inch Flex Note at CES earlier this year. However, HP may trying to beat other companies to the punch with this kind of foldable design. One of the main issues with foldable phones up to this point has been price, with both the Pixel Fold and Z Fold 5 sitting at $1,800. You can get a quality phone and tablet for the same price. The same is true for the Spectre Fold, but what these companies are truly selling is a premium kind of convenience, to have all your devices in one place for easy switching.
The Spectre Fold is available for pre-order starting Thursday through BestBuy, and it should be available in limited quantities through HP's website with an expected release date this October.