It's powerful. It's fast. It's responsive. It has 4G-ish internet powers. It feels more solid than Google's Nexus. The HTC Sensation 4G is probably T-Mobile's best Android phone. But there's one pesky thing preventing it from Android superiority: HTC Sense.
Plusses
It's like the Nexus One, evolved. Metal and Gorilla Glass, with a leathery back panel that looks as nice as it feels. It has a 4.3-inch, qHD (960x540) screen, but because it has a larger aspect ratio, it doesn't feel like a hulking monolith (Evo or Droid X). The keyboard's accurate, spacious and one of the best—if not the best—I've used on Android. The 8-megapixel, 1080p-recording camera is quicker and better than Google's flagship Nexus S. And it's all very fast. Oh, and it has an LED notifier, so you'll know if you have missed call/text/email without having to pick up your phone.
Minuses
HTC's custom Sense software is fine, but outside of a dedicated menu for personalizing the look of the skin, and some contact linking options, it's not better than stock Android. The design is busy, dated and superfluous. And Android phones running skins don't get the latest and greatest Android updates until months later. Sure, it has Gingerbread now, but Ice Cream Sandwich isn't that far off. If you don't care about timely Android updates (which, um?), then you've got nothing to worry about.
G/O Media may get a commission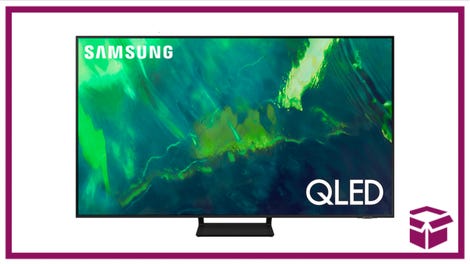 35% off
Samsung Q70A QLED 4K TV
Save big with this Samsung sale
If you're ready to drop some cash on a TV, now's a great time to do it. You can score the 75-inch Samsung Q70A QLED 4K TV for a whopping $800 off. That knocks the price down to $1,500 from $2,300, which is 35% off. This is a lot of TV for the money, and it also happens to be one of the best 4K TVs you can buy right now, according to Gizmodo.
Specs: HTC Sensation 4G

Network: T-Mobile
Screen: 4.3-inch, 960x540 Gorilla Glass display
Weight: 5.5oz
Processor: 1.2GHz, Dual-Core Qualcomm Snapdragon 8260
Storage: 4GB internal - up to 32GB expandable
OS: Android 2.3 (Gingerbread) + HTC Sense 3.0
Cameras: Rear 8-megapixel, Front 0.3MP
Price: $200 with two-year contract