An award-winning editor of genre anthologies, Ellen Datlow started her career at Omni magazine and now edits several books a year, including Year's Best Fantasy and Horror. She told us what short story editors want.
I sat down with Datlow at WorldCon, where she won a Hugo last week for best editor of short fiction, and we talked shop.
io9: You do most of your work in genre fiction. How do you define horror, as opposed to science fiction or fantasy?
ED: I'm very broad in my definition of horror. There's a long tradition of science fiction horror like the story "Who Goes There," which became the movie The Thing, or The Fly. Then there's the continuum of which ranges from dark fantasy to horror. [Australian horror writer] Kaaron Warren says horror goes farther than dark fantasy. But what's that extra step that makes it horror? Horror is edgier. Dark fantasy feels mushier to me. Finding the difference - it's an instinct. And they overlap a lot. For years I thought the magazine Weird Tales was dark fantasy, not horror. But since Ann [VanderMeer] took over, the stories are edgier, more in the horror vein.
Horror isn't only about ghosts or monsters. For example, paranormal romance seems the antithesis of horror. Once you have a sexy, fun vampire who is sweet, and you have a happy ending, it's not horror.
G/O Media may get a commission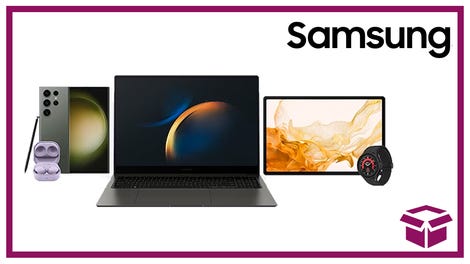 24 hour deals
Discover Samsung - Daily Deal
Often, science fiction and horror readers and writers won't look outside of their own field for new work. Look at the Stoker Awards [for horror fiction] – the members rarely look at the horror published in mainstream publications . I feel lucky that I get to read and publish stories that are not necessarily overtly horror in Best Horror of the Year. Still, people will ask, "How dare you put a "mainstream" story in there?" But if I can justify a powerful story as horror because it creates that sense of unease and/or dread, I'll use it.
Where do you find new horror writers for your anthologies?
I'm reading of every publication in and out of the field regularly for my Best of the Year. I read the magazines Black Static, Interzone, Crimewave, as well as crime collections and anthologies. I read Akashic Books' noir series. And of course I cover SF mags like F&SF, Asimov's and Analog, although I'll rarely find a horror story in the last. I'll read any anthologies or collection I can get my hands on. If I find a book mentioned in Publisher's Weekly and it looks like it will be dark, I'll track it down.
But sometimes I find stories just because people send their obscurely published stories to me. That's what happened with Miranda Siemienowicz. She sent me her stories and I took one, called "Dress Circle," for Best Horror of the Year 1. Most of the people in the first volume [covering 2008] are writers I don't know personally or professionally. When editing short fiction you always have to look for fresh blood. Most short story writers move on to novels - that's just a given. So you have to look to new writers for magazines and anthologies.
There has been a lot of talk in the science fiction and fantasy community lately about how many anthologies include only male authors. Do you ever worry about gender balance when you put together an anthology?
Not all that much, particularly not in horror because there are just more male horror writers than female and there always have been - this has been discussed to death in the horror field for decades. Because I read so widely for my year's best, I'm generally aware of who is writing what. In editing an original anthology, I specifically invite writers whose work is to my taste and might check out something that is recommended to me. I'm glad to see that more young female writers and writers of color are entering the fantastic field . I'd like to see more writing horror as well. But when it comes down to what I or any editor buys it's always going to be the story itself, not who wrote it.
By the same token, of course there's an old boy's - and for that matter, girl's - network in genre fiction and in any other literary endeavor. People are more willing to work with the writers whose work they already know and love. Right now, a large percentage of horror writers are still male and that's the percentage in my anthologies. But it's good to be aware of the balance. Interestingly, in the 1980s, women dominated the Nebula nominations in short fiction: Karen Joy Fowler, Nancy Kress, and Connie Willis were at the top of the field in visibility.
Where do you see the future of short stories going with more magazines moving online?
I spent ten years in the digital domain – I was publishing online stories for Omni [in the mid-1990s]. So I'm comfortable with that idea, but I just wish online fiction would start making money for people. I'd also like to start reading ebooks, but I don't currently have a reader.