The forecast for Hurricane Florence is about as ominous as it gets. The National Weather Service—a bastion of calm forecast language—said the storm has "the potential for unbelievable damage." And part of what's so disconcerting is what could be damaged as Florence plows into the Carolinas this week.

The storm is headed into the heart of an industrial wasteland festooned with pig shit lagoons, piles of toxic leftovers from burning coal, and Superfund sites. With Florence forecast to dump rain that can be measured in feet, these sites run the real risk of sending their waste into rivers, forests, and people's yards.
That nightmarish scenario isn't entirely hypothetical.
"We've been in this position before," Frank Holleman, senior attorney at the Southern Environmental Law Center, told Earther. "We had a disaster when Hurricane Floyd flushed huge quantities of hog manure and hogs into North Carolina rivers. We've had two major coal ash disasters...that occurred on a good day when the sun was shining."
North Carolina is the second-biggest producer of pork in the nation. There are 9 million hogs in the state of just more than 10 million people, and many of them are raised in the coastal lowlands on massive industrial farms.
That many pigs create a lot of poop—10 billion pounds annually, according to one estimate. Farmers store all that shit in lagoons, which become cesspools of bacteria with high levels of phosphorus and nitrogen. Those lagoons overflowed during Hurricane Floyd in 1999 and again during Matthew in 2016, both of which dealt North Carolina glancing blows. Both storms also drowned pigs, sending their bodies into rivers. That led to algae blooms, fish die offs, and other nasty impacts, all of which are a concern with Florence.
G/O Media may get a commission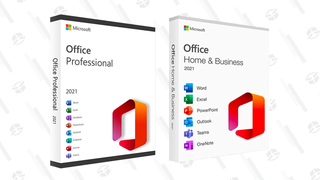 89% off
Microsoft Office Professional 2021 Lifetime License
"The influx of nutrients into warm water could lead to algal blooms," Katy Langley, the Lower Neuse Riverkeeper working with the nonprofit organization Sound Rivers, told Earther. "Some could be harmful blooms that contain neurotoxins."
Lovely.
Langley pointed to a buyout program that was put in place after Floyd to help transition industrial hog operations in North Carolina's 100-year floodplain as one way the state has helped reduce the risk. Forty-three farms took the buyout, which likely reduced the pollution impact of Hurricane Matthew.
But Florence is forecast to be much worse. Farmers have been draining the lagoons to accommodate the coming influx of water according the North Carolina Pork Council, but the concern is that lagoons' earthen walls could still fail as Florence's rains saturate the soil. There could also be so much rain and wind that they simply overflow.
"Operators of swine CAFOs (concentrated animal feeding operations) are in a real bind, because with all the rain we've already had, lagoon levels are already high, and the only way to lower them is to pump or spray," Elizabeth Haddix, the head of the North Carolina nonprofit Julius L. Chambers Center for Civil Rights, told Earther.
Then there are the coal leftovers. Dubbed coal ash, these are essentially piles of toxic waste sitting in unlined pits, many of which are along rivers, with earthen walls that could collapse just like the pig lagoons. The health and environmental impacts of coal ash are a whole different ballgame, though, with mercury, arsenic, lead, and other dangerous heavy metals that can contaminate surrounding areas.
Holleman called the siting of these ash piles "irresponsible and extremely bad decision making." Many of them are operated by Duke Energy in North Carolina and Dominion Virginia, which could also see impacts.
The Southeast has seen two major coal ash spills that occurred due to non-storm related failures—one on North Carolina's Dan River in 2014 and one at the Kingston Fossil Plant in Tennessee in 2008. The latter has cost $1.2 billion and counting and sickened or killed cleanup workers.
Duke Energy spokesperson Paige Sheehan told Earther the company is in the process of draining coal ash sites as part of ongoing remediation efforts, which should provide a little extra space to handle Florence's copious rains. She also said the company has 20,000 people responding to the storm, including "hundreds" working at its coal ash and energy generating facilities.
"This has the potential to be a life changing event. I hope we get to a place where we're not talking about coal ash with this thing."
Not to be left out, there are also nine Superfund sites the Environmental Protection Agency is monitoring with a variety of heavy metals, pesticides, waste oil, and fertilizer. The agency came under fire during Hurricane Harvey last year when it responded slowly to 13 inundated Superfund sites and attacked the AP reporter who broke the story about the drowned locations. Hurricane Maria raised similar toxic waste concerns for a community living in the shadow of a former battery recycling center Superfund site in Puerto Rico.
This maze of toxic waste already disproportionately impacts poor communities and communities of color. Florence could only make those impacts worse.
Earther has reached out to industry representatives about preparation and will update this story if we hear back.
This post has been updated with comments from Duke Energy.