Last week the rain was pouring, the streets were flooded, and I had zero desire to leave the comfort of my home. But the makers of Injustice 2 were offering an intimate demo, and by god I wanted to see what Supergirl looked like in DC's best murderverse.

I did get to see that (she looks great), but Warner Bros. Interactive also let us play the first four story modes of the game, and getting to launch Damian Wayne into the atmosphere then riddling his body with bullets from the Batwing, then slamming him into the ground was almost as fun as playing dress up with Supergirl.
Most of the demo was focused on Injustice 2's new Gear system, which allows players to customize the characters with lore-friendly accoutrements that also alter the way characters can play. It's certainly a neat feature, but watching a demo of it is sort of like when your friend grabs your Barbie and plays dress up while you have to watch.
G/O Media may get a commission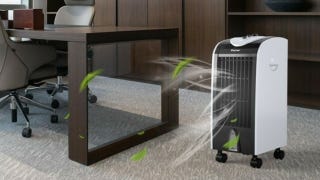 Save $10
Evaporative Portable Air Conditioner Cooler with Filter Knob
Getting my hands on the controller felt like a small victory. Finding out that I wasn't as bad at Injustice 2 as I was at Injustice 1 felt like a damn triumph. I played through the first four missions for the story mode (a reporter from Mashable was also in the briefing and we swapped the controller for each mission). Like NetherRealm's other fighters, the story is cinematic rather than following the ladder-based narrative you usually find in fighting games. Crucially, Injustice 2 appears to have you play as whichever character is must appropriate post cut scene. In the prologue's case that was Batman—who we played as for all four missions. While it might have just been a quirk of the demo, there did not appear to be an option to play as any other character in the prologue.
If you have, until now, assumed Injustice 2 was a sequel to the excellent comic book series, you are mistaken. Instead consider the comic book and video game series riffs on the same initial concept: Superman goes full Heracles, murders everyone he loves by accident, and then then he turns into an authoritarian despot.
The first four missions are set during the first game, when Superman is at peak despot. He's killed the Joker and is planning to do some more villains, locked up in prison, the same way. Batman (and his beautiful boy Damian) are determined to stop Superman.
But first Batman and Robin have to get to the prison. Cyborg stops them, conveniently punting Robin off the playing field so Batman and Cyborg have reason to go at each another one on one. This occurs again in the Batman versus Wonder Woman fight that follows. And again in the Superman and Robin fights—the latter of which felt especially cruel, what with the kid being Batman's spawn.
Still, the game setting up each one on one fight naturally was a little attention to detail I really appreciate—as there's nothing more annoying than an epic superhero beatdown where other characters conveniently disappear after the cut scene.
The demo ended promptly after Superman and Robin escape, so it isn't clear how this will fit into the overarching story. But Warner Brothers Interactive made it clear to io9 that story and lore are vitally important to how this game is designed. Representatives specifically pointed to Wonder Woman—who received a complete overhaul from Injustice 1. We shouldn't know, conceptually, that Wonder Woman is one of the best fighters alive in the DC Universe. We should see it in how she knees Batman in the face.
Whether that love and respect for lore is present in the final game remains to be seen. But for now I can rest easy knowing I, the Dark Knight, half murdered my son in a video game and it felt GREAT.