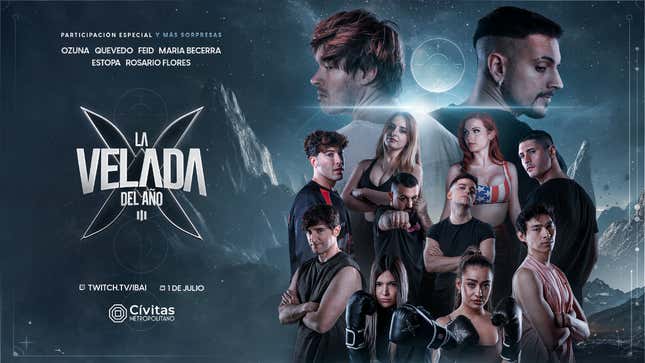 Twitch's biggest event of the year, La Velada del Año III, or "The Night of the Year III," the annual streamer vs. streamer boxing match organized by megastar Ibai Llanos, will be offered in English for the first time ever.
How Does Gerard Pique's New Twitch Indoor Soccer League Work?
Llanos, a Spanish creator who is one of the platform's biggest streamers in any language, announced the news in a stream late Thursday. Now in its third year, the Velada has historically only been offered in Spanish on Llanos' Twitch channel. However, given that one of the event's main fights features U.S. streamer and Twitch hot tub queen Amouranth, who will be fighting against the Spanish streamer Mayichi, Llanos has been trying to make more content about the event available to English speakers.
Until now, Llanos' efforts have mainly consisted of asking Twitch streamer Luzu, who speaks both Spanish and English and is also fighting in the event, to act as a translator during Velada streams with Amouranth.
"La Velada del Año will be broadcast in English," Llano said in Spanish on Thursday. "There are going to be official, top English commentators that are going to be commenting the event from a box at the Metropolitan [soccer stadium]. In addition, Twitch has found a way to count the viewers for the English stream towards the total for our official Spanish stream."
It's not yet clear who will be commenting the Velada, or whether they'll be boxing experts or streamers. In past Veladas, Llanos has commented the event alongside Spanish boxing experts and other streamers. Llanos said he and his team were considering a variety of options and mentioned that people from the U.S., such as Sapnap, Dream, and Karl Jacobs, were attending the event.
Last year's Velada broke the world record for most the simultaneous live viewers on Twitch. The event had 3.3 million viewers watching at its peak and an average of 2.5 million throughout the broadcast, according to Streams Charts, a streaming analytics service.
Gizmodo reached out to Twitch for comment on the decision on Friday morning but did not immediately receive a response. Although Llanos broadcasts the Velada on Twitch, the event is managed by his team alone from end-to-end.
There are five fights currently confirmed for the Velada. Originally, six were scheduled, but Llanos stated that the YouTuber Viruzz had dropped out on Thursday due to an eye injury he sustained while fighting in the Misfits Boxing tournament against DK Money earlier this month. All of the streamers involved have been training with professional boxing coaches for months to prepare for the Velada.
The fights are as follows:
Ampeter vs. PapiGavi
Samy Rivera, Rivers vs. Marina Rivers (LaRivers)
Coscu vs. Germán Garmendia
Fernanfloo vs. Luzu
Amouranth vs. Mayichi
In addition, the event will feature musical performances from some of the Spanish-speaking world's top talent, including Ozeuna, Quevedo, Feid, María Becerra, Estopa, and Rosario Flores.
Nazar Babenko, a product manager at Streams Charts, told Gizmodo in an email that offering the Velada in another language was a logical step if Llanos and his team wanted to recreate his record-breaking viewership numbers from last year. Babenko also noted that this was a chance for English-speaking audiences to see content from Spanish-speaking creators for themselves, which has been recognized by American Twitch streamers as being "on a completely different level."
Yet, making the Velada more accessible also ramps up pressure.
"With great power comes great responsibility," Babenko said. "In a month, all the attention of the streaming world will be riveted to this event. Will it be able to surpass last year's figures? And if not, does that mean that streaming is losing ground? We'll have to draw the correct conclusions because it's more than just the peak viewership that speaks to the success of streaming."
La Velada del Año III will be held on July 1 in Madrid, Spain before a live audience of 60,000 people at the Metropolitan Stadium, home to the Atlético de Madrid soccer team. It will be streamed for free on Twitch on Llanos' channel in Spanish and in English on a channel to be announced.