If you're going to commit a crime, it's probably best not to brag about it. And it's especially dumb to brag about your crime on the internet. But that's precisely what happened when a defense contractor bragged on LinkedIn about bilking the Department of Defense out of money, according to new documents obtained by Gizmodo.

Gizmodo submitted a Freedom of Information Act (FOIA) request with the Department of Defense Office of the Inspector General for complaints submitted to their hotline. And the one below caught our eye (emphasis mine).

The text reads:
In a LinkedIn post below the person openly states that [redacted] company have deliberately defrauded the government by false billing. Direct text and Link[redacted] post are below.
G/O Media may get a commission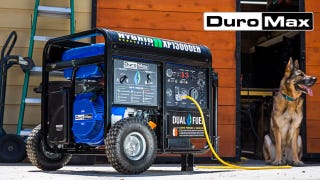 Black Friday Sale
DuroMax Generator Sale
Sadly, we don't know much about the crime, since the call was an anonymous tip to the Department of Defense waste and fraud hotline. And the most interesting bits have also been redacted by the government. The Department of Defense Office of the Inspector General also hasn't responded to multiple requests for comment.
What do we know? The fraud was likely committed by a contractor for the defense company Raytheon. And by all indications it was about over-billing for some work based out of Bristol, Florida in the summer of 2015.

The tipster didn't leave enough information for DOD OIG to follow up when they wanted to investigate the matter. But perhaps they thought the LinkedIn post was enough and they could get away with sending it in anonymously. Whatever the situation, the case was closed on August 26, 2015 and we don't know what happened.
Do you know who was swindling the Defense Department in this case? Or any other case? Drop us a line: novak@gizmodo.com.