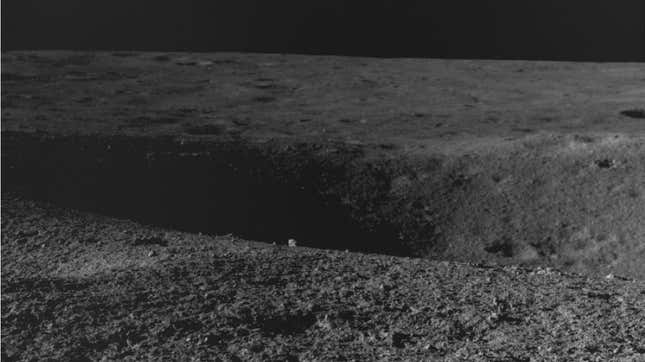 It's been less than a week since India's Chandrayaan-3 mission became the first to touch down on the Moon's south pole, and its lander is wasting no time collecting valuable data from the unexplored region.
Moon Knight Gives Us Hope
Using a temperature probe on board the Vikram lander, Chandrayaan-3 measured the temperature profile of the lunar soil in the south pole to better understand the thermal behavior of the Moon's surface. In an update shared on X (previously Twitter), the Indian Space Research Organization (ISRO) revealed the temperature variations across the Moon's surface as measured by Chandra's Surface Thermophysical Experiment as the probe penetrated the lunar soil.
"This is the first such profile for the lunar south pole. Detailed observations are underway," ISRO wrote. Meanwhile, the mission's six-wheeled rover, nicknamed Pragyan, ran into a 13-foot (4-meter) wide crater that stood in its way and it was forced to follow a different route, the space agency revealed Sunday on X.
Pragyan carries a laser-induced breakdown spectroscope and an alpha particle X-ray spectrometer to study the chemical composition of the surface of the Moon.
India's Chandrayaan-3 mission successfully landed on the Moon on August 23, making India the fourth country to achieve such feat after the Soviet Union, the U.S., and China. Shorly after its touchdown, the rover rolled its way onto the surface of the Moon using the lander's ramp, officially becoming the first mission to operate on the lunar south pole.
The south polar region is of great interest to scientists as previous evidence suggests it contains water ice reservoirs in the permanently shadowed regions. Water on the Moon could be used by astronauts for drinking, or to make fuel and oxygen.
This was India's second attempt to land on the Moon. Chandrayaan-2 did not go as well; the mission crashed on the lunar surface in September 2019 due to an issue with its braking thrusters. This time around, things appeared to go smoothly for the worthy successor, Chandrayaan-3.
The Chandrayaan-3 mission is only meant to last for 14 days—the portion of time during a full lunar day when sunlight reaches the Moon's surface.
 For more spaceflight in your life, follow us on Twitter and bookmark Gizmodo's dedicated Spaceflight page.