Gizmodo—and Gawker Media—are moving. We're packing up our cozy little SoHo walkup and heading to a big new office in Union Square. And according to the architects who are designing it, it's going to be very, very cool.
After news broke about Gawker's relocation today, we talked the two architects leading the project: Kirsten Murray and Kristen Becker of the Seattle-based Olson Kundig Architects. The building at 114 Fifth Avenue was built back in 1910, and the duo are creating a space that melds 104-year-old patina with the technology necessitated by a blogging empire. Here are a few highlights from our talk.
An Architectural "Spine"
According to the architects, a major problem with Gawker's current office is that there's nowhere to gather. "It's a pretty compartmentalized work experience," says Murray. Which is why they've imagined a long spine of seating, edged by a conventional staircase, that cuts down through the entire two-story office:
It functions as a central spine. The idea is that it acts as a piazza, a central space that we're hoping that people really share and work with.
G/O Media may get a commission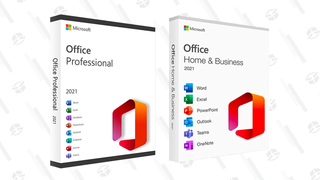 89% off
Microsoft Office Professional 2021 Lifetime License
The spine is edged on either side by removable panels—or curtains, as the rendering shows right now—that will be opened up during the day to let light in, or shuttered at night for events.
It's all a play on the contrast between the bright, sun-filled edges and the "cozy" inner spaces:
We're working with a palette that has a high contrast between light and dark... There's really great daylight in the space from windows on two sides, and those spaces are going to be great, light-filled places to work during the day, to write, to think. And the central spaces will be darker, richer, and that transform themselves into more theatrical places.
Death to the Open Plan Office
Considering the verbose personality of the average Gawker Media employee, it's strange that the Gawker office is perpetually cloaked in an oppressive silence. We can blame our open plan office, an idea that took root in the corporate culture of the 1950s as a way to promote collaboration amongst employees and still survives today... Despite evidence that it does just the opposite.
Becker and Murray are creating something different. Not conventional offices, but a range of spaces that lead from personal to collective. Employees will have the choice of where to work:
You could have your laptop in the lounge, you could bring it to an area we call "the conservatory," which is this light-filled room that offers a different level of inspiration. But not keeping everyone at their desk—allowing people to feel like where they're working is flexible. And the central bleacher and stair also serves as an impromptu area to have meetings.
There will be office-specific lounge areas, though, divided into smaller six- to 12-person pods to house teams and groups within the company:
There's a desire to break down the workspaces themselves into smaller studios, not just an open-ended cubicle workplace. But a space that has almost little studios or parlors, where smaller groups of people can have their own really distinct workspaces and communities.
The Work/Party Balance
Events are a major driver of Gawker office culture (actually, most office cultures), so the main goal of the design is creating a space that can transition quickly from day to night:
When you come in off the street, you arrive at this open lounge area where during the day, people could sit and work on their laptops. And at night, it functions as a gathering space. And then, the central bleacher could be a stage for screenings, for performances, and things of that nature.
Because the two outer walls of the space are edged in huge windows, the edge rooms will be bright and airy, giving way to darker, more intimate spaces in the interior areas.
The crew at Olson Kundig are moving quickly, and the Gawker Media team could move in as soon as March. We'll have more updates to come—for more on Olson Kundig's (very) awesome work, check out the projects we've covered here on Gizmodo.
All images courtesy of Olson Kundig Architects.