Gawker Media—Gizmodo's former parent company which is now in bankruptcy proceedings following a lawsuit secretly funded by Peter Thiel—is up for sale, with a tentative auction date of July 21st. Fantastic news: There's already a bidder with plans to purchase the site and make it a fountain of good, very non-threatening vibes.

According to the Wall Street Journal, content marketing and communications firm Didit has formally placed a bid of $1.13 million for Gawker Media, which includes the rights to the Gawker.com domain, 200,000 archived articles, and its associated social media accounts. In what can only be described as the best of intentions, Didit and its co-founder Kevin Lee plans to enact "a new editorial policy to only post content it considers to be positive," something which has clearly never been tried before and is not at all a stark contrast to Gawker's ethos:
Didit seeks to revive the blog with what it calls "Gawker for Good" — publishing what it considers positive news stories and "good gossip." The firm would donate half of the advertising and sponsorship revenue it generates from new Gawker articles to non-profit organizations selected either by readers and people it partners with to develop content for the site, Didit co-founder Kevin Lee said in an interview with The Wall Street Journal.

"I think there is still a place for...good gossip. I don't think you need to run a click baity, salacious gossip site," Mr. Lee said.
Even more inspiring, Lee says he has zero experience in journalism—which is an opportunity for everyone involved to learn a lot and have fun doing it!
Mr. Lee said he doesn't have experience in journalism but said if the bid for Gawker succeeds, he would hire people who did. Didit describes itself as a fully integrated marketing and communications firm.

"I do have concerns that it's not going to be easy, but on the flip side, nothing really fun in life is easy," Mr. Lee said. "It's more fun to take on challenges that make you think all the time."
G/O Media may get a commission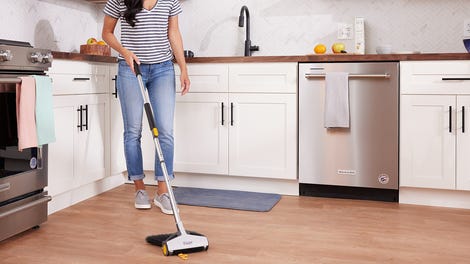 BOGO 50% Off
Flippr - BOGO 50% Off
Lee added that if he is successful in his bid to own the Gawker brand, he will kindly keep a copy of its archives somewhere—though he told the Journal, "We don't have the wherewithal to fight assaults on the archive."
Even though Gizmodo Media Group is a separate company from the defunct Gawker Media, everyone here is really on board with finally bringing the power of editorially-mandated positive thinking to the internet. In the spirit of harmony, we've all gotten together and prepared some tech and science-focused pitches that a fresh and reinvigorated Gawker could run. Just some spitballs:
Actually, the Real Blockchain Was Just the Friends We Made Along the Way

I'm Glad Microtargeting Keeps Me From Seeing Irrelevant Ads

Try Not to Cry: Ghost of Steve Jobs Comes Back to Verbally Abuse One Lucky Apple Store Worker Every Year

Wow, This Angel Investor Is Actually An Angel (He's Dead)

I've Made Just the Right Number of Friends Online


Inspiring: These Female Blockchain Entrepreneurs Are Scamming Mostly Men

This Mushroom Cloud Looks Like It's Smiling!

We Redacted All the Slurs From These Leaked Silicon Valley Emails and It's Actually Kind of Beautiful

Boston Dynamics' New Robot Restored My Faith in Our Ability to Kill

Facebook Has Been Reading My Texts Which Is More Than I Can Say For My So-Called "Friends"

Mount Kilauea Is Living Its Best Life [Photos]

Jack Dorsey's Beard Isn't Creepy, It's Where The Birds Live

The AI Is Smarter Than Me But It's Very Polite and Not Condescending at All

Working At Startups Helped Delay My Adulthood, Like Peter Pan!

Consider: If Not for Twitter, We'd Only Know What Elon Musk Was Up to After He Built a Giant Slingshot That Shoots Contractors Into Space

FBI Backdoors Are Like Mullets, That's Where the Party Happens

10 Friendly Emails Asking Me to Insert Product Links Into Articles for Money That I'd Eagerly Reply to If I Was in Debt to My Coke Guy

Safety Win: Apple's New Headquarters Is Teaching People to Look Where They're Going
All of us here at Gizmodo politely hope you take our ideas into consideration, and feel very warm and fuzzy that Gawker may yet find a loving forever home. In conclusion, may we propose a toast—to being nicer!