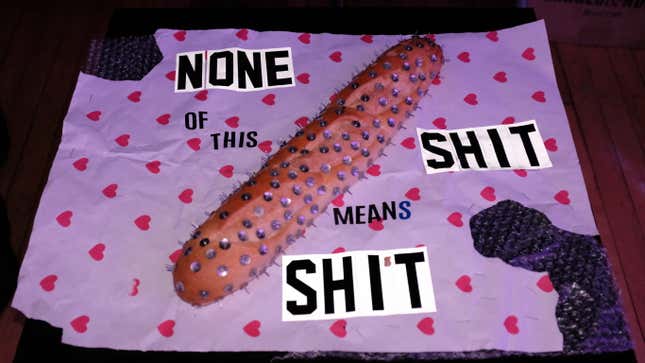 Instagram's meme makers are taking their talents to a surprising place: the stage. But more so than the static images they post, their shows  resemble stand-up comedy.
Memers explained to Gizmodo how they translate online humor into IRL shows.
"There are a lot of things that people laugh at online that they don't laugh at on a screen live," said Annie Rauwerda, who runs @DepthsofWikipedia on Twitter, Instagram, and TikTok, explained. "When you have this person up there reacting to internet humor or adding to it or showing what part is funny as some sort of audience surrogate, that can be helpful."
"A lot of stand-up is just showing up at a bar, so you have to talk about more normal things. With memes, people get excited to hear about Big Chungus and stuff like that. If you go to a bar and say 'Big Chungus,' half the people won't know what that is," said Tony Zaret, who runs @tonyzaret on Instagram, said. "People online, they want to hear more references to things like YouTubers and video games. At a stand-up comedy club, you can't talk about that because there are more people that enjoy leaving their houses. They want to hear about things like marriage."
Click through to see pictures of memers putting on live shows, three in particular: Touching Grass, a variety show staged in Philadelphia in late 2022; a punk art show in Baltimore that featured a meme cake as well as music and more traditional visual art; and @DepthsofWikipedia's live show in New York City in December 2022.
"Touching Grass was sort of like a meet and greet, sort of like a rave. We were calling it a meme art show," said Joelle Bouchard, who runs @namaste.at.home.dad. "It gives you a chance to come meet the people that you've had this parasocial relationship with online. We have a ton of fans, but we seem so intangible to them."
"It's like the newborn baby of art and comedy," she added.
If you want to read more about shows themselves, Gizmodo published an in-depth story on the trend last week.