Your endless stream of photos on Instagram is fun—for a while. But there's only so many times you can see a sepia-toned sunset before even the mere thought starts to induce nausea. Instapuzzle for iOS, though, puts a fun new twist on how you interact with your friends' filtered pics.
What does it do?
Lets you choose a variety of types of Instagram photos—be they yours, your friends', the current "featured tag," or ones you've liked. Once you've picked a photo, choose a difficultly level and watch as the picture gets split and scattered into (depending on your friends' photos) some of the most twee jigsaw puzzles you ever did see. Race against a timer using the least number of moves possible to score points, and you can even use hints if you get stuck.
Why do we like it?
You've probably found yourself absentmindedly scrolling through Instagram countless times a day before realizing that you haven't really looked at any of the pictures. Because to be honest, at this point, it's kind of hard to care when they all kind of look the same. At least now you can put tehm to use, and the simple, beautiful UI utilizes the minimalism that has become oh-so-popular in all the best apps, making it feel like something you've used your entire life. Unfortunately, there's no Game Center integration quite yet, which would definitely add a fun element to a game based on a social network to begin with. But until then, it's still just a fun way to inject some life into your absent-minded Instagram browsing.
G/O Media may get a commission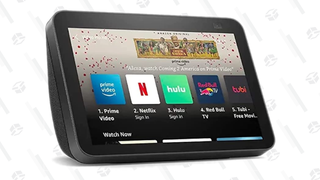 Instapuzzle, Download this app for: iOS, Free

The Best: Spices up boring Instagram photos
The Worst: No Game Center integration