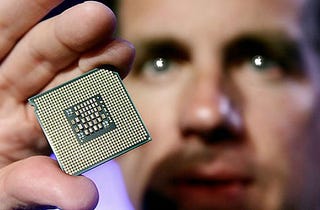 When Intel released its Xeon 5100 processors last summer, they were already faster, cooler and more efficient than their predecessors, and now Intel's doing it again with even more-efficient quad core processors that rolled out yesterday. The company's 5300 series server chips were already 50% more efficient than those 5100 dual-core Xeons from last summer, and now Intel says its Xeon L5320 and L5310 use between 35 and 60% less electricity than its existing 5300 series quad core processors, which suck up 80 and 120 watts.
The L5320 and L5310 Xeons, running at 1.86GHz and 1.6GHz respectively, probably won't be the ones showing up on those Apple machines that are said to be debuting on April 15 in Las Vegas at the National Association of Broadcasters (NAB) convention. Hey, Macs use Xeons, don't they? Will these Xeons be part and parcel of the fabled "OctoMac?"

Nah. The processors in the OctoMac will eventually be the higher-end 3.0GHz version of the quad core Xeon that Intel revealed last week, saying they'll be shipping later this year. Those are the chips the speed freaks will use, users who don't care so much about energy efficiency and care everything about the fastest processors available.
In the meantime, maybe Apple will make do with a pair of the existing Core 2 Extreme quad-core processors, which we're using right here on a PC and can attest to their already-blazing speed and serious video rendering capabilities.
Either way, we just got our invite to the big Apple unveiling in Sleazetown, and will be positioned right up front to let you know what happens.
More efficient quad-core Xeons [Macworld]