It's iPad day, and Apple just announced the successor to last years svelte new iPad Air. This is the iPad Air 2 (aka the iPad 6), a familiar but thinner body, with updated guts and a few more features around the edges.
Design
The iPad Air 2 might look mostly familiar—and it is—but it's been shrunk down to 6.1mm thick. Thin enough that two are thinner than the original iPad. And also it comes in gold now because of course it does.
Around the bottom button, there's that tell-tale silver circle; the iPad Air 2 is bringing TouchID to the tablet space. You can use your new fingerprint powers to buy things online, but NOT in a store. No NFC here, so no tapping iPad Airs at points of sale.
G/O Media may get a commission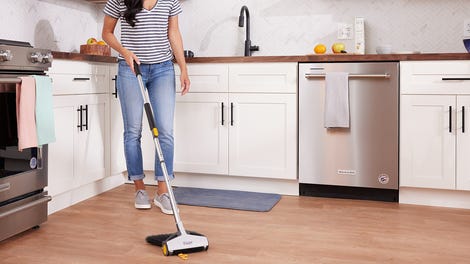 BOGO 50% Off
Flippr - BOGO 50% Off
It's screen is better now too. there's no air-gap between the display and the glass on top of it, plus a new anti-reflective coating on there as well. Still just a Retina resolution, presumably.
Guts
Inside, the iPad Air 2 sports a new A8x chip, a souped up version of the blazing dual-core 64-bit A8 chip that made its debut in the iPhone 6 and 6 Plus. Like the phones, the Air 2 also has a M8 motion coprocessor, and Apple claims the efficiency of the A8x will make sure you still get 10 hours out of that tiny package.
The extra power will make things like editing 4K pictures in Pixelmator around twice as fast on the iPad Air 2. It doesn't stop at images either; with Replay and the upgraded horsepower, the iPad Air 2 should be able to edit video way better than any iPad before. The A8x offers rendering that's four times faster than the original Air's A7.
Camera
The iPad Air 2 also has a new, great camera. So get used to standing behind iPad photographers. It's an 8MP iSight camera. It does 1080p video, timelapses, 43MP panoramas, burst mode shots, and slow mo video.
The Facetime camera is getting an update too, with improved face-detection thanks to the A8x. And yes, it can do burst selfies if you are into that. (Don't be into that.)
Price
The iPad Air 2 starts at $500 for the 16GB version, the same price the original Air debuted at. Bigger storage sizes come in $100 increments up to 64GB, with an additional $130 premium for LTE versions. Meanwhile the original Air is getting $100 lopped off its price, and now starts at $400.