Today was big for Apple, busting out hardware updates in the two hottest lines—iPhones and MacBooks—along with final details on the overhauls of their two operating systems, too. We saw everything but a tablet—and Steve Jobs.
Is AI Moving Too Fast? | Future Tech
iPhone 3GS
• iPhone 3GS Complete Feature Guide
• iPhone 3G vs. iPhone 3GS Comparison Chart
• iPhone 3GS Video Walkthrough (Quick 4-Minute Version)
• iPhone 3GS Gets Voice Control
iPhone Pricing Issues: The Untold Story
• iPhone 3G Owners Will Have To Pay $200 Extra To Get iPhone 3GS Early
• Old 16GB iPhone 3G to Sell for $149
• The Not-So-New $99 8GB iPhone
• AT&T's Tethering and MMS Support Delay—and Possible Reason For It
G/O Media may get a commission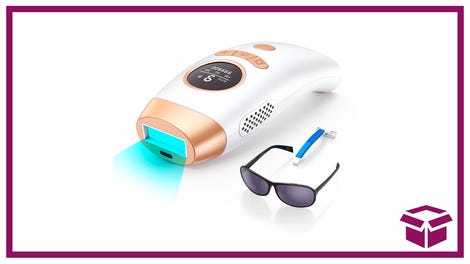 58% Off + Coupon
IPL Hair Removal Device
iPhone OS and Apps
• iPhone 3.0: The Whole Story
• "Find My iPhone" Is a Relief to Us Forgetful Types
• App Roundup: iPhone 3.0
New MacBook Pros
• New Amazingly Priced 15-Inch MacBook Pros
• All-New, Low-Priced 13-Inch MacBook Pro, Plus Great Price Reductions for MacBook Air
Mac OS X Snow Leopard and Safari
• Mac OSX Snow Leopard: The Whole Story (Including $29 Upgrade Price!)
• Safari 4 Available, Dubbed "World's Fastest Browser"
The Whole Damn Keynote
• Wish You'da Been There, Elbow To Elbow With Bloggers, Feeling Chen's Hot Breath On Your Neck? Watch This, and Imagine