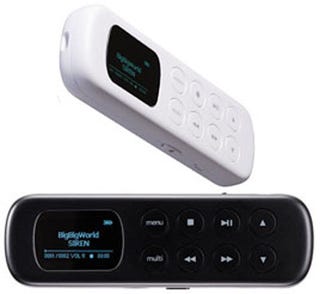 iRiver are set to launch their first DAP under the Siren brand, which they procured earlier this year. The new model, the DP250, has obviously had strong influences from the iRiver team and sports a solid feature set too.
The player will have a paltry 400mW speaker built in, (given the size we will let them off), and an FM transmitter to allow you tunes to travel through slightly better speakers. Voice, line-in and FM radio recording are all also possible. The players will debut in black and white colours, retailing at $85 (1GB), or $120 (2GB). Expect the usual plethora of iRiver file support from this player. The inclusion of the recording and broadcasting features may make this worth the extra cash, but if you are in the field for a do it all player at a dirt-cheap price, the Sansa Clip is for you. [anythingbutipod].
Update: Apparently, iriver Japan has been using the Siren brand in an unauthorized way. Here's the official statement from Siren.
"In May 2007 iriver Japan, a subsidiary of MCJ Co., Ltd, began selling the Siren line of consumer electronics in Japan. iriver Japan acquired rights to the Siren line from from Amax Japan without the approval of Siren, Inc., the rightful owner of the brand.
Siren, Inc had licensed Amax Japan to use the Siren brand in Japan but did not authorize the sale of the Siren brand to iriver Japan. Siren, Inc was not told of the transfer of the Siren brand and discovered the sale when a number of electronics blogs reported it. Immediately Siren contacted Amax Japan and iriver Japan. Siren, Inc. is the holder of registrations and applications for registration of the Siren brand in Japan, China and the European Union, based on the ownership of the Siren brand in the US.
As a result, iriver Japan is unlawfully using the Siren brand in Japan. Siren, Inc. is willing to sign a License Agreement with iriver Japan for exclusive rights in Japan. Siren has in good faith tried to reach a licensing agreement with iriver Japan since the summer of 2007. iriver Japan has refused to sign two licensing agreements presented to them over the course of 2007 and continues to deny any infringement.
Siren has presented iriver Japan one more opportunity to negotiate a License Agreement. If iriver Japan does not respond in the time frame presented to them, Siren will use Japanese counsel to bring claims for infringement and fraud, and will no longer offer the License Agreement. We at Siren, Inc would like to see a fair and equitable settlement in this manner so iriver Japan can continue to market Siren branded products in Japan."