In 2004, Congress passed the Project BioShield Act—a ten-year, $5.6 billion fund for purchasing vaccines to use in the event of a bioterrorist attack. But, faced with budget constraints and perceptions of a decreased terrorist threat, Congress is having second thoughts about how it funds the program.
Project BioShield established steady, guaranteed funding of $560 million per year as a way to create a market incentive for pharmaceutical companies to produce vaccines for which there is no large-scale commercial demand.
As a report published by the Center for a New American Security (CNAS) notes, the initiative sought to mitigate the financial risks and opportunity costs associated with the lengthy development of new drugs:
Developing a new commercial vaccine or drug may take over 10 years and cost more than $1 billion. The two greatest factors contributing to the cost are time and risk. The risks of failure are significant, and the likelihood of failure is linked directly to safety, efficacy and commercial concerns. For the 50 largest pharmaceutical companies, the probability that a candidate will prove both safe and effective through the three phases of clinical trials necessary to achieve FDA licensure is 1 in 6. Failures often result during testing because the product is unsafe (30 percent) or ineffective (30 percent). Forty-three percent of product failures occur in late stages of testing (Phase III), and another 23 percent occur after the product has completed all clinical trials and the application for licensure is submitted to the FDA. Late-stage failures are especially expensive because of extensive testing and opportunity costs.
Congress revised the legislation in 2008, with the creation of another agency, the Biomedical Advanced Research and Development Authority (BARDA), which not only manages Project BioShield contracts, but also procures medical countermeasures against pandemic influenza and emerging infectious diseases. According to a recent report by the Congressional Research Service (CRS), Congress transferred approximately $2.3 billion to BARDA-related activities, while earmarking $3.3 billion specifically for the development of vaccines to counter terrorist threats. About $1 billion went toward smallpox drugs, with most of the rest being spent on vaccines for botulism and anthrax.
Congress has authorized the program to continue through 2018, but with a hitch: Instead of a special reserve fund, the funding levels will be determined on a year-by-year basis through the annual appropriations process. In 2014, the program received $255 million; for 2015, the administration has requested $415 million.
G/O Media may get a commission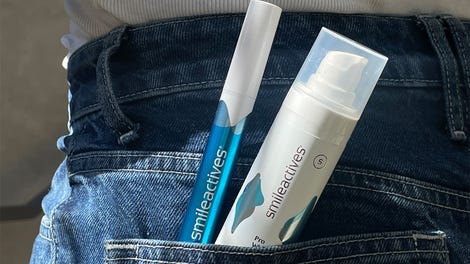 58% off
Whitening Powerhouse Pen & Gel Duo
This new approach introduces an element of uncertainty. As the CRS report observes:
"The switch to annual appropriations may complicate….long-term countermeasure development and acquisition planning….Some developers contend that an advance appropriation helps company management more favorably consider a potential countermeasure when weighing internal investment opportunity costs."
Likewise, according to the CNAS study:
Because the U.S. government is the sole customer, companies considering this market need to know several things:

How much will the government buy?
What is the company's expected profit?
What can companies expect given federal acquisition rules that are perceived as slow and onerous?
Will the government be a reliable customer, committed to a long-term contractual relationship?
Will Congress reliably appropriate funds for procurement?
A lack of clear answers only raises companies' perceptions of the risks of an already risky endeavor.
Congress might still reinstate a funding approach similar to the guaranteed ten-year fund. However, as CRS notes, "providing an advance appropriation during the current fiscal environment may prove more difficult than in 2003."