Jeremy Renner confirms the accuracy of that new Civil War promo art. Mads Mikklesen talks up his Rogue One role, and may be joining the cast of Doctor Strange. Another crazy Doctor Who rumor involves a connection to past Doctors. Plus, our first look at Doctor Light on The Flash, and more. Spoilers get!
Captain America: Civil War
Jeremy Renner has confirmed that yesterday's brand new promo art is real, commenting on his new outfit.
Although not specifically Civil War related, a high res screen grab from Age of Ultron making the circuits recently reveals Ulysses Klaue's link to Black Panther's origin. The screen grab, of a file the Avengers have on Klaue, has this small bit of background attached:
Ulysses Klaue was an assassin hired to take down T'Chaka at the Bilderberg conference in the case that he refused to negotiate Wakanda's resources including Vibranium. But, Klaue was also there personally, as the Panther killed his great-grandfather in the 19th century while this one was trying to annex Wakanda. He was paid ten million dollars for the kill.
G/O Media may get a commission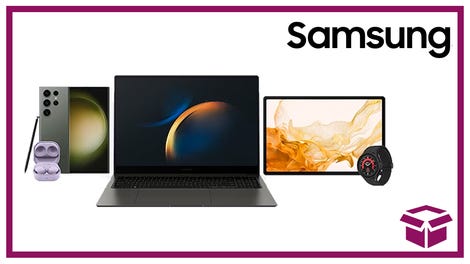 24 hour deals
Discover Samsung - Daily Deal
[/Film]
---
Doctor Strange
Variety reports that Hannibal star Mads Mikkelsen has been approached to play one of the major villains in film, alongside Chiwetel Ejiofor's Baron Mordo.
---
Star Wars: Rogue One
Speaking of Mikkelsen, the actor recently discussed his recently announced role in the movie, confirming that he's not playing a villain:
It is a very important role, as much I can say. No, my character is actually not a bad guy, and then I can not say more. I can also say that the movie will be shot in Iceland and England. And the filming will last for three months.
---
Suicide Squad
Margot Robbie briefly touches on Jared Leto's incarnation of the Joker:
What he's doing with the character is so cool. At first it was kind of confronting (to be up close) but now I'm so used to it, I think if I ever saw him out of makeup now I would be really confused. Actually, I saw him out of makeup once and I was actually petrified of him. I was too scared to go up and didn't know who that person was, and when he got back into his makeup I was far more comfortable.
---
Valerian
Luc Besson's adaptation of the iconic French Sci-fi comic may be forced to shoot outside of France—due to the fact that it will not receive tax credits from the French government for filming, because of the movie being predominantly presented in English rather than French. [Malay Mail]
---
Prometheus 2
Ridley Scott has confirmed that his next movie will be Prometheus 2, lending veracity to recent rumors that the producer had pushed back Neil Blomkamp's Alien 5 to prioritize this film. [/Film]
---
Star Wars: The Force Awakens
Here's a new trio of pictures from Empire's coverage of the film—two behind the scenes shots of filming, and a third cover, this time of adorable droid BB-8. [Empire]
---
Game Of Thrones
A comment from George R. R. Martin's livejournal account is making the rounds, claiming that the writer "confirms" that Stannis Baratheon survived the end of the show's fifth season in said comment. To clarify, Martin is specifically discussing the books in his comment, rather than the show—and this is information that was already known to book fans, as Stannis has appeared in preview chapters for Winds of Winter. The Stannis of the TV series is as good as dead (for now—you know how Game of Thrones can be).
---
Gotham
Executive producer Danny Cannon has confirmed that new villain Theo Galavan is in fact not a new villain, but the "origin of a very famous DC villain"— and talk of Galavan's plan to unite all the villains of Gotham to rebuild the troubled city has lead to speculation that he is in fact the iconic Batman villain Ra's Al Ghul. [The Daily Dot]
---
Luke Cage
An alleged synopsis for the Netflix series has made its way online:
Luke Cage is a former gang member who is framed for a crime. In prison, he volunteers for a medical experiment that goes awry, giving him super strength and bulletproof skin. Using his newfound powers, Cage escapes and becomes a hero for hire. His archenemy is Willy Stryker, a former childhood friend from Harlem. The two committed petty crimes together, and both fell for the same woman, Reva Connors, which led to their eventual falling out. It was Stryker who framed Cage for a drug deal that sent him to prison.
[/Film]

---
The Walking Dead
The show is looking to cast a potential regular guest role, a character named Rich, who could persist into future seasons:
[RICH] 50s - early 60s. Please submit all ethnicities. Narcissistic, egotistical, quick to braggadocio and anger, his own skin is his principal concern. He feeds off the superiority of being in control, but he plays it off with Senator-like charm. He's vibrant, and has the charisma of a car salesman...GUEST STAR, MAY RECUR THIS SEASON, WILL HAVE SERIES OPTION FOR SUBSEQUENT SEASONS
---
Doctor Who
Speculation is circulating that the events of the Eighth Doctor's regeneration, shown in the 50th anniversary minisode "Night of the Doctor" could play a role in the Ninth season, after an image released of the Twelfth Doctor yesterday shows him holding the same chalice that the Eighth Doctor previously used to regenerate. However, it's more likely that the BBC is merely reusing a prop and hoping no one notices, rather than any solid link between the two episodes. [Fansided]
---
Arrow
Paul Blackthorne has been tweeting images from behind the scenes of filming for the fourth episode of season 4, which will seemingly involve a Lazarus pit judging by this picture he took with Katie Cassidy. [Spoiler TV]
---
The Flash
Here's a few pictures from filming—one set showing a brief look at DC character Doctor Light, who was recently being sought for the show, and a second that purports to show Caitlin Snow getting intimate with the Flash of Earth-2, Jay Garrick.
---
iZombie
Finally, Rose McIver has tweeted a picture from filming on season 2's episode four, "Even Cowgirls Get The Black & Blues". [Spoiler TV]
---
Additional reporting by Gordon Jackson and Charlie Jane Anders. Top image: Gotham.