An Avengers: Age of Ultron villain will make it out of that movie and into other Marvel films. What do Game of Thrones episode titles reveal? Gareth Edwards breaks down the Godzilla trailer. Learn how Fantastic Four differs from the earlier versions. And will Chloe Sevigny be returning to American Horror Story? Spoilers now!
Top image: Godzilla
The Matrix
Giant grain of salt, but Latino Review has a report claiming that Warner Brothers has asked for another Matrix trilogy. The Wachowskis are reportedly working on stories, with early outlines already given to the studio. It sounds as though the idea is for the new trilogy to explore the origin of the Matrix, but that could all change, or not even happen. If this is even true, it's early days yet. [Slashfilm]
---
Avengers: Age of Ultron
Thomas Kretschmann confirmed that his appearance as Baron von Strucker in Age of Ultron won't be the last time we see him, saying:
I have a multi-picture deal which means I will not only appear in the 2nd part, but they're planning with me for a longer period of time. But I don't know details yet, they're keeping their cards close to their chest — top secret!
G/O Media may get a commission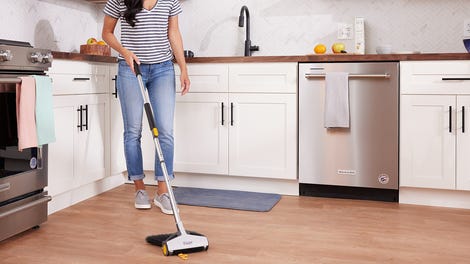 BOGO 50% Off
Flippr - BOGO 50% Off
---
Godzilla
Director Gareth Edwards did a Q&A following a screening of footage, including a scene with a "domino effect of planes being destroyed in an airport." During the Q&A, Edwards explained why he believes Godzilla is so enduring:
I think the reason why it's lasted [Godzilla] has lasted so long is because you have an infinite canvas. It not like other franchises, where you have a particular story you have to tell over and over again. With Godzilla you can kinda do anything you want, and that was paralysing to begin. We brainstormed it for ages and circles around a million different ideas. It probably took us a good year and a half to land on the story which felt right for everybody. At the heart of our movie, which is also there in the original, is the idea of man versus nature. If you mess with it, you're going to lose.
He also talked about the challenges inherent in making such a huge film:
If you put a list together of the pros and cons of making both a low-budget and big-budget movie, just swap them over. Everything that is easy to do when there are just three of you [on the crew] is really hard when there are 400 people on the production.

Everything that's really hard to do when you only have ten pounds is really easy when you're got millions to spend. The real difficulty and hardest aspect in any filmmaking process is to try and tell a gripping story that you really care about the outcome of. It doesn't matter if you have ten pence or 200 million dollars, it's just as difficult. We focused our time on getting it right.
The director also broke down the trailer for Empire Online, saying that the origami is foreshadowing something, the Statue of Liberty isn't in New York, and that the tentacle isn't holding a bomb. He also said that the first idea pitched was that the nuclear tests of the '50s weren't tests at all, but the government's attempt to destroy something. And that's the idea they ran with.
He also said this about the bones:
[They're] kind of a little treasure map for fans. Let them figure out what this all means. In our film, it's not that these things were magically created for some random reason. We tried to make it as realistic as possible. If there was a giant creature, how did it get here? Has it always been here, and if so, were there others? That's another question we address in the movie.
Watch the video commentary at the link. [Empire Online via Cosmic Book News]
Go here for more photos from Godzilla. [Coming Soon]
---
Fantastic Four
Producer Matthew Vaughn wants to make something clear:
It's a total reboot, that's for sure. It's got nothing to do with the other bloody ones. It's not stretchy guy and a guy running around in rock that looks like it's made polystyrene. And its not a comedy.
Put him down as "not a fan" of the others. [Coming Soon]
---
Batman Vs. Superman
Here's costume designer Michael Wilkinson discussing the Wonder Woman costume:
It's so important to get her right. She really deserves to be presented on-screen in her full glory. So what I do is I look at the history of how the character has been presented on the big-screen, and the small-screen, and in comic books, and graphic novels. We process it all. Then we kind of put that aside and work out what is right for our film, for the cinematic universe that our director Zack Snyder is putting together. We try and create a Wonder Woman that's relevant for today's audiences.
Now that Jared Leto has won an Oscar, there's already some half-joking speculation that he could be up for a role in a comic-book movie. Possible roles include Nightwing in this film, or Dr. Strange. See this mostly tongue-in-cheek Twitter thread for more. [StaxIGN on Twitter]
---
Terminator: Genesis
Arnold Schwarzenegger described a bit of what the filming schedule will be like:
We start filming in the middle or in the end of April and it will be a four or four-and-a-half month long shoot. We will be filming it in New Orleans with some of it in San Francisco and maybe a little of it in LA but most of it will be done in New Orleans. I'm really looking forward to that because as you know, the last time when they did the Terminator, it was when I was Governor and so I couldn't be in that movie but now I'm back again and they are very excited about having me in the film... The script is fantastic so I'm really looking forward to this film.
---
Transformers 4: Age of Extinction
Remember when Titus Welliver said that this wasn't a kid's film? Yeah, he's going to go ahead and take that back:
I misspoke in my last interview when I said that Transformers 4 was not a kids movie…what I meant was that this film, will in fact expand their target audience and bring in a bigger fan base. Following the huge success of Transformers and their toy line, it is certainly a kids movie and with the addition of Mark Wahlberg, Transformers 4 will be the coolest in the franchise.
And here's a video about the sound design. [Transformer World]
---
Jupiter Ascending
Here's a new trailer, that's mostly the same as the first with just a few new scenes mixed in. [Slashfilm]
---
Maleficent
Go here for more new photos from Maleficent. [Coming Soon]
---
Captain America
Here's a new poster. [Coming Soon]
---
American Horror Story
Chloe Sevigny teased a possible return to American Horror Story for the next season, saying:
I'm not sure. Ryan Murphy teased me, 'Oh, now you're doing [Those Who Kill], you can't do ours.' I guess it depends if we get a second season of [Those Who Kill], and what happens with that. I love American Horror Story, and I love this show, so I hope I can do both.
That actually sounds like they're trying to make it work, rather than an outright denial. [Fear.net]
---
True Blood
Season 7 will introduce the family of Sarah Newlin (Anna Camp). In one episode, viewers will meet her Texas socialite parents. Staying on for a full, and twisty, arc is Sarah's sister Amber. Goth Amber's angry and bitter attitude will be on full display, and her arc will explain a lot about why Sarah is the way she is. [TV Line]
---
Once Upon a Time
The upcoming introduction of Rapunzel's going to double as an exploration of Charming, according to Josh Dallas:
[It's] very psychological, an episode where you have Charming facing a lot of his ultimate fears. He's going to have to really look at himself, when confronted with something that challenges his strength and courage.
We're also going to see if Neal is anything like his father, says executive producer Eddy Kitsis:
In a lot of ways Neal finds himself in a similar position that his father did, which is: I'm stuck in a land and I need to get back to the people I love.' Rumple was willing to curse everybody to get what he wanted, [but] Neal has, up until this point, kind of been a really moral center for his dad… So the question is, 'Will he follow the same path?'
[TV Line]
The revelation that two characters are related will also mean that two other characters are related. That sounds similar to the revelation that Neal was Henry's father, making Rumpelstiltskin related to the whole Charming clan. [E! Online]
---
Teen Wolf
Jeff Davis previewed a major moment from the finale:
There's a fight scene that occurs in the snow. We were all really worried about how it would play, and it looks amazing, and we're really happy about it,It involves a lot of our leads, so it's pretty epic. There's an epic fight scene in the snow that's a lot of swords clashing
---
Supernatural: Tribes
Danielle Savre (Heroes) will play shapeshifter Margo, who is the acting head of the leading shapeshifter clan. Margo is an "ex-punk rocker-turned-corporate professional" who will be threatened by the return of one of the other leads, David (Nathaniel Buzolic).
Also cast is Stephen Martines as Detective Freddie Costa, the Chicago cop mentor to newbie hunter Ennis (Lucien Laviscount). But Costa is also secretly being paid by the monster families that run Chicago. [TV Line]
---
The Tomorrow People
There isn't an official season 2 yet, but the show's already casting Natalie, who will appear first in season 20 and is slated to recur for the hypothetical season 2. Natalie's described as "an unstable and sadistic rabble-rouser/self-determined leader who speaks her mind without putting a lot of thought into the outcome." [TV Line]
---
Beauty and the Beast
Sam won't be leaving any time soon, and today he'll be explaining to Vincent that he can't send him to jail without explaining that he's a Beast. See a clip at the link. [TV Line]
---
Grimm
Nick's mother will return for two "big episodes" this season. Executive producer David Greenwalt described the effect her return will have:
The whole relationship with Nick and his mom — there's are a lot of stuff to be mined there, including Nick actually developing a kind of dark sense of humor about his mother and how their relationship is. It is what it is. And they do love each other. And she has come back into his life. And there's so much past history there, but she's not a milk-and-cookies kind of mom.
Fellow EP Jim Kouf said that Captain Renard's "about to suffer a lot" in the process of figuring out whether he's really the father of Adalind's baby. Plus, there's a huge cliffhanger in the finale. [Entertainment Weekly]
Here's a promo for episode 3.14, "Mommy Dearest." [via SpoilerTV]
---
Hieroglyph
In the Ancient Egypt-set series, Max Brown will star as Ambrose, a notorious thief who is taken from prison and into the service of the Pharoah (Reece Ritchie). [Deadline]
---
Game of Thrones
Here are the titles for the first four episodes:
4.1: Two Swords.
Running time: 58 minutes
4.2: The Lion and the Rose.
Running time: 52 minutes
4.3: Breaker of Chains.
Running time: 56 minutes
4.4: Oathkeeper.
Running time: 54 minutes
There's speculation that "The Lion and the Rose" refers to the long-awaited wedding of King Joffrey and Margaery, and that "Breaker of Chains" has to do with Danaerys freeing the slaves of Meereen. [Winter Is Coming]
Here's a teaser featuring a down-and-dungeoned Tyrion:
---
Agents of SHIELD
Here are the first four minutes of episode 1.14, "TAHITI." [via SpoilerTV]
---
The Originals
Here's a clip from "Le Grand Guignol."
---
The Vampire Diaries
Go here for more photos from episode 5.16, "While You Were Sleeping." No official description yet, but that title sounds like a reference to Elena's return. [K Site TV]
And here is the trailer from "Gone Girl":
---
Almost Human
Here are three sneak peek videos from the season finale.