At hearing before the House Energy & Commerce Committee, Twitter CEO Jack Dorsey addressed politicians' concerns about harassment and abuse, the impact of propaganda on American elections, and, to a much lesser extent than had been expected, the unfounded allegations that Twitter is silencing conservative voices.

In prepared remarks, Dorsey put to rest claims that Twitter is censoring or discouraging right-wing views—the very controversy responsible for Wednesday's hearing. Prominent conservatives, including the U.S. president, have charged Twitter with persecution and censorship, an allegation that gained attention in Washington after Vice News claimed Twitter had "shadow banned" Republican legislators.
In a July tweet promoting Vice's article, House Majority Leader Kevin McCarthy declared that social media was "being rigged" to "censor conservatives." "It's time to rise up and demand accountability from Big Tech," he said. "WE WILL NOT BE SILENCED."
The claims proliferated despite the fact that journalists at the New York Times, BuzzFeed, and other outlets had carefully picked apart Vice's use of the term "shadow banned." It had meant that an account's tweets were no longer visible to its followers in their timelines. Vice, however, used it to describe the fact that Twitter was no longer automatically displaying certain conservative accounts in its search results.
Dorsey explained prior to the hearing that more than 600,000 accounts globally were affected by this issue, including a number of Democrats; the result of an algorithm relying on "behavior signals" when auto-suggesting accounts during a search, which was aimed at gauging the conduct of the followers of the accounts affected—not the accounts themselves. "The accounts, their tweets, and surrounding conversation about those accounts were still showing up in search results," Dorsey noted.
G/O Media may get a commission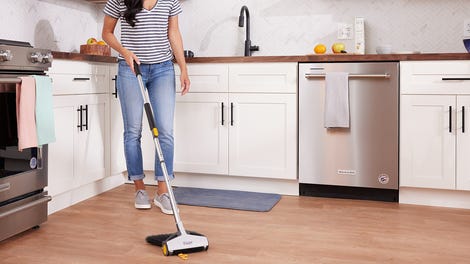 BOGO 50% Off
Flippr - BOGO 50% Off
The company canceled its test of this algorithm once it became aware of the problems, according to Dorsey, who said Twitter often has no way of knowing what will happen until after features get deployed.
No doubt to the chagrin of many far-right, extremely-online personalities— including Infowars host Alex Jones, whose presence on Capitol Hill Wednesday was hard to miss—the hearing veered far from this anticipated topic. Talk of the alleged "censorship" ended up being limited to merely a handful of remarks. The Republicans who did remain interested seemed mostly to not understand that Twitter's algorithm couldn't care less about the affected users' political leanings.
In lieu of conspiracy theories, GOP lawmakers largely focused on very legitimate concerns about online harassment and abuse, including floods of rape and death threats faced predominately by women, giving rise to an unexpected and almost bipartisan hearing around an issue that's actually hurting many people online.

For Republicans, the face of the alarming abuse problem was Meghan McCain, whose father, Sen. John McCain, was laid to rest on Sunday. Over the weekend, McCain became the victim of a doctored image shared broadly on Twitter, depicting a gun pointed at her as she approached her father's casket. The tweet remained online for several hours and appeared only to be removed after complaints from McCain's husband, Ben Domenech, went viral.
The incident served as a focal point for Republicans who engaged the CEO repeatedly over Twitter's flawed efforts to rein in the hateful and violent speech notoriously plaguing the site.
"It seemed like it took forever for it to come down," said Rep. Michael Burgess, Republican of Texas, speaking of the doctored image. "I understand there are algorithms, I understand you have to have checks and balances. But really, it shouldn't take hours for something that egregious to be addressed."
Responding to Burgess, Dorsey admitted the response time was "unacceptable," adding: "We don't want to use our scale as an excuse here."
Not once did Dorsey, who adopted a notably humble tone throughout his appearances before both the Energy & Commerce Committee and the Senate Intelligence Committee earlier on Wednesday, try to deflect or diminish the blame. Instead, he repeatedly accepted it in full, calmly acknowledging where and when Twitter had fumbled. In contrast to Facebook CEO Mark Zuckerberg, who unmistakably failed to impress Washington with his we-must-do-better approach this year, Dorsey's admission that Twitter's problems were immeasurably large and difficult to conquer left sparse real estate for lawmakers to pile on.
Whereas Zuckerberg almost always seemed to be drawing from prepared responses drilled into his head by a room full of high-paid crisis professionals, Dorsey was clearly in command of his own assessments, casually delivering answers to pointed questions, as if he'd come prepared to educate Congress rather than defend himself against it.
"You don't look like what a CEO of Twitter should look like with that beard," said Rep. Joe Barton at one point, in his distinct Texas twang.
"My mother would agree with you," replied Dorsey, drawing the Republican's laughter.
The CEO repeatedly expressed his own frustration in how Twitter deals with harassment, reiterating multiple times that the onus for reporting abuse should not fall on the abused. At the same time, he acknowledged that that is precisely how Twitter's system works.
"We need to build technology so we are not waiting for reports," admitted Dorsey, clearly determined to get across that doing so was no simple task.
To wit, Dorsey framed the issue of creating a system to automatically identify abuse as a daunting technological problem that stretches the capabilities of today's artificial intelligence, adding at one point that Twitter has hundreds of employees tasked with its development. In the meantime, he said, Twitter must do a better at prioritizing the reports it does receives from victims of abuse and those who observe it, placing first concern on direct threats of violence.
"In the longer term, we need to take the burden away from the victim having to report it in the first place," he said.
The range of work Twitter pursues in this area is not solely defined by the company itself, Dorsey said, noting that a host of outside organizations are being consulted and helping Twitter define the path forward. In his opening remarks, the University of Oxford and Leiden University were noted, for example, as places from which Twitter has called on experts. The company has also altered the way it views problems related to abuse, manipulation by foreign powers, and malicious bots, linking them intrinsically to the company's perception of its own "health."
Twitter's stock sank by more than 8 percent after reports in July that the company had deleted some 70 million accounts believed to be bots or otherwise suspicious. On Wednesday, Dorsey said his company was fully aware of the short-term cost that would result from such decisions and others that it intended to make while striving toward a more healthy public discourse.
"I think there's a perception that we're not going to act because we want as much activity as possible," he said, dismissing notions that Twitter faces economic disincentives to cleansing its site of toxic behavior. "We see increasing health of public conversation as a growth vector for us."
"We communicated a lot of these [ideas] during our last earnings call, and the reaction by Wall Street was not as positive," he continued. "But we believed it was important to increase the health of this public square. Otherwise, no one's going to use it in the first place."
Although disturbed by Twitter's inaction on various points, the lawmakers mostly praised Dorsey as he appeared to absorb and reflect on each question, even as the hearing dragged on well past its third hour. His forwardness, not to mention characteristically subdued timbre, seemed to successfully ward off any persistent attacks against him or his company, turning a hostile space into one that was both civil and receptive, even borderline neighborly.
"I think it's pretty easy to understand why you've been as successful as you have, because of your mannerisms today, your decorum," offered Rep. Billy Long, a Republican from Missouri. "A lot of people come into these hearings, and they practice and they coach them and tell them how to act. It's obvious that no one did that for you," he said.
"You are who you are," he concluded, "and that shows today."