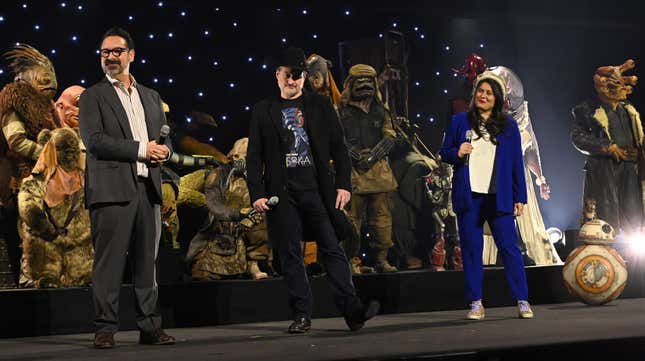 I can't stop thinking about it. Since the minute it was officially announced that James Mangold would be writing and directing a film about the Dawn of the Jedi, I just keep dreaming about the possibilities. Sure, I'm curious about what Rey is doing with the New Jedi Order, though I wish we could've seen Luke try first. And yeah, I'm hoping the Disney+ Dave Filoni universe will add up to something suitably grand. But that Mangold idea? Oh man. Inject it into my veins.
'I Started a Yoda Fan Club'
For those who may not know what I'm talking about, last week at Star Wars Celebration, it was announced that Mangold, whose new movie Indiana Jones and the Dial of Destiny opens June 30, is making a film set 25,000 years before any other Star Wars tale that will "take audiences deep into the past, telling the tale of the first Jedi to wield the Force and harness it as a liberating power in an era of chaos and oppression." On stage, Mangold said "Where did the Force come from? When did we discover it? When did we know how to use it?"
Instantly my imagination started racing. Imagine it's today. Right now. The world is the world. You're sitting there, deep in thought, and you realize you can do something. You're able to tap into something. Something that no one else can see, feel, or touch. But you can. You begin to learn about it, experiment, and push the limits.
Instantly you have choices. Do you use this power for good? What kind of good? What do you do? Do you teach others about it? How can you even quantify what it is or ask if other people can use it? You're basically a person who has discovered a secret no one else in the galaxy knows about. And then, maybe, people don't believe you. People might persecute you. What does that do to a person? Can you continuously stay true to your beliefs if you're constantly isolated? How hard is it to know this other power exists, but not have the ability to prove it?
What about the next person? Will that person choose to use the power for good? Or will they choose to be evil? In Star Wars, you can't have light without the dark, right? So how does that happen and develop? Oh, and who are these people? Women? Men? Aliens? Creatures? Then add more people and more people and 25,000 years later is Yoda. Talk about a lot of potential. Basically, a story about the first person to use the Force is like a superhero origin story, Star Wars-style.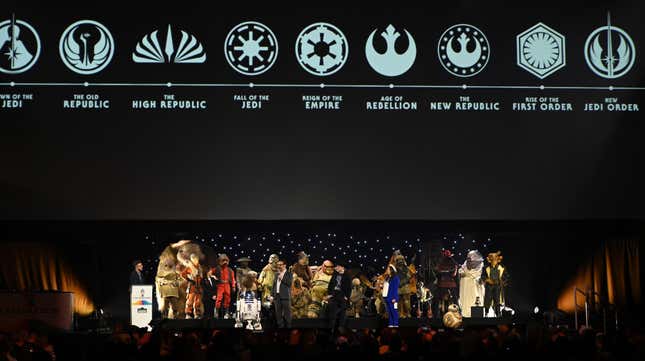 One thing that worries me a little bit, though, is that this idea could get too hung up on the origin of the Force. If it's about the origin of the Jedi? Fine. But the Force has to have always been there. No one invented gravity. Isaac Newton just figured it out. This has to be like that, and if it isn't—well, that's going to be complicated.
When this news was announced, I read a great tweet that put it all into perspective: "It's about time we got to see the origin of the force. I hope they further demystify it and explain why, how and who created midichlorians. Also I hope the midichlorians are muppets and have dialogue. Next time I watch the trench run I will enjoy it more with this extra context." Which is, a) a hilarious exaggeration, but also b) an accurate description of what Star Wars has become in recent years: a never-ending loop of explanation and dissection. You thought Obi-Wan Kenobi and Darth Vader hadn't seen each other in 20 years? Think again! Boba Fett dead? Not so fast!
Hopefully, the movie is not that. At least, the movie I'm thinking of isn't. The movie I'm thinking of is about what it means to potentially have god-like powers. About how people treat you because of it. Make a movie, heck, multiple movies about where that goes. This has the potential to be a universal story on a whole other level. Mangold used the term "biblical epic" and mentioned The Ten Commandments. Yeah, that's the right vibe.
But one thing I've learned time and time again with Star Wars is: don't get your hopes up. Don't get it in your head that The Rise of Skywalker must be referring to the evolution of the Jedi and how these new, more evolved Force users are being renamed Skywalkers because they're no longer "Jedi." If you think that, and it doesn't happen, you cannot be disappointed. You have no one to blame but yourself. (I did this, as you can read in this link.)
Thankfully, James Mangold's Dawn of the Jedi movie is still years and years away—so I, and more importantly Mangold himself, have plenty more time to think about what this incredible story could mean for Star Wars.
---
Want more io9 news? Check out when to expect the latest Marvel, Star Wars, and Star Trek releases, what's next for the DC Universe on film and TV, and everything you need to know about the future of Doctor Who.