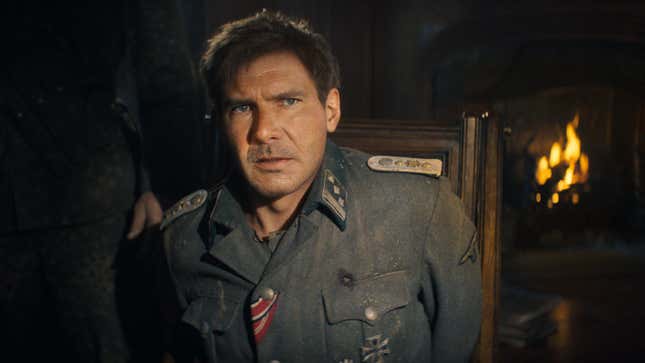 The last time Indiana Jones graced the big screen, an Iron Man film starring Robert Downey Jr. was still considered a risk, and fans had yet to experience Heath Ledger as the Joker. Even then, in a time that feels like a lifetime ago, legendary actor Harrison Ford was already considered a senior citizen.
Then 66, now 80, this year Ford once again reprises arguably his most famous role as the famed archeologist in Indiana Jones and the Dial of Destiny, out June 30. And it, like 2008's Indiana Jones and the Kingdom of the Crystal Skull, both pose a similar problem, according to Dial of Destiny director James Mangold. No, it's not Ford's age—it's seeing this character in an era outside of his first three films.
"The first three Indiana Jones movies took place in roughly the same period," Mangold said to the Hollywood Reporter. "They all easily fit with the serialized, theatrical, almost screwball-action style of the movies that were being released in the period they're set in. The challenge for [director Steven Spielberg] on [Crystal Skull], and for me on this one, is: how do you move forward into new decades where the world is no longer seen in such clear demarcations of black and white and good and evil? Where the whole concept of raiding tombs and fighting over relics is looked at in a different way? It's not about changing the story but allowing the character to experience how the world has changed around him."
Mangold notes that the way he solved this was by starting the film's story back in that familiar time period, with an Indy that's young and fighting his most iconic villains, the Nazis. The choice was made specifically for its juxtaposition to the rest of the film.
"It reminds the audience of the contrast between a hero in his physical prime and a hero at 70," Mangold said. "We're not relying solely on the audience's memory of the previous films. It reminds everyone what he's done, what he's survived, what he's accomplished. By showing him in his most hearty and then finding him at 70 in New York City, it produces for the audience a kind of wonderful whiplash of how they're going to have to readjust and retool their brains for this guy. His past is a live memory for the audience hanging over a man who is now living with anonymity in a world that no longer cares or recognizes the things he felt so deeply about. You're left with a multi-layered perception of his character, both what he was and what he is, and how the world is different between the first 20 minutes of the movie."
"Wonderful whiplash." What a great Indiana Jones-y phrase. We cannot wait for this one and hope the obvious vision and understanding Mangold has of the character and franchise pays off. Indiana Jones and the Dial of Destiny opens June 30.
---
Want more io9 news? Check out when to expect the latest Marvel, Star Wars, and Star Trek releases, what's next for the DC Universe on film and TV, and everything you need to know about the future of Doctor Who.