The newest Halloween is kind of an anomaly, in that it's a movie sequel that ignores all of the other sequels. Jamie Lee Curtis says that's one of the main reasons why she signed up. So, instead of getting bogged down with surprise siblings, immortality, and all the other crazy reveals from the Halloween series, Curtis is focusing on Laurie Strode's trauma and healing process. And the cast and crew were right alongside her.

Warning: Curtis discusses what could be a movie spoiler near the end of this article. I can't confirm whether or not it spoils the ending, as I haven't seen the film, but it's something to keep in mind.
Chatting with Deadline at the Toronto International Film Festival, Curtis revealed that one of the main reasons she chose to join Danny McBride and David Gordon Green's Halloween was because it was ignoring all of the other sequels. She said the other sequels got bogged down because the various writers and directors working on them felt they needed to "add on to the story that was told before them," leading to strange reveals, like Michael Myers' being Laurie Strode's brother—one of the many plot elements being left out of this new film.

Instead, the movie spends much of its time focusing on the tragedy Laurie Strode suffered following Michael Myers' harrowing attack. Curtis called trauma a "generational illness," and said the new Halloween focuses on how that one experience shaped her character's life, as well as that of her family's, for years. She added that exploring the character's ongoing PTSD was not only integral to the writing, but her performance. This is because, in her mind, Laurie Strode suffered alone.
G/O Media may get a commission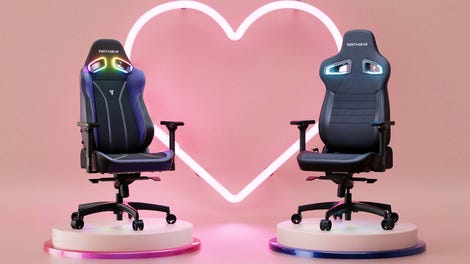 Up to $150 off
Vertagear Gaming Chairs
"Very clearly, Laurie Strode had no help. She had no mental health services, a group of psychologists didn't descend on Haddonfield. I believe Laurie Strode went back to high school two days later with a bandage on her arm, and that's about it. I don't think people talked about it," Curtis said.
People may not have been supporting Laurie then, but they're certainly supporting her now—especially behind the scenes. During the interview with Deadline, Curtis described one of the last scenes she shot on her final day. It deals with her sitting along in a truck and facing the trauma of what she's gone through in both movies. No family. No friends. Not even any dialogue. Just Laurie. As she filmed the emotional scene, Curtis said the crew stepped in with a show of support that assured her that she was not alone. She wasn't sure who organized it—she suggested it might've been Green, though he didn't confirm it during the interview—but said she was incredibly touched by the gesture:
The last day we shot was the day that Laurie is alone in her truck, basically going through the trauma again of what happened while he [possibly meaning Michael Myers] is being transferred to a bus to be taken away. And so this catharsis of emotion and rage and repression all takes place with no dialogue, with a girl alone in a truck.

When I approached the truck to do my alone acting work in an empty truck, with 100 people surrounding her, the entire crew wore name tags that said "We are Laurie Strode." What they were saying to me, what they said in that moment, was that the trauma that happened to Laurie Strode, they were all part of it. They were all carrying her, caring for her, and hoping to deliver her from evil. And that was incredibly emotional for me, just the gesture of that.

It meant we were all in this together, in a way that Laurie Strode never had in her life. And that has made all the difference.
The newest (although technically second) chapter in the Halloween saga heads to theaters on October 19.