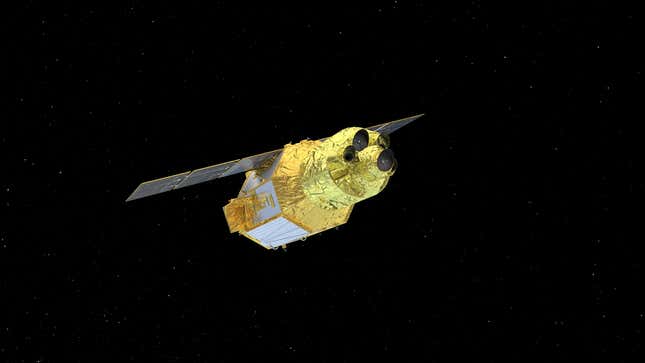 A revolutionary satellite is preparing to take to the skies, viewing the hidden parts of cosmos in a new light to reveal stellar explosions and powerful jets streaming from supermassive black holes.
First Full-Color Images From Webb Space Telescope
XRISM (X-ray Imaging and Spectroscopy Mission), a joint mission between the Japan Aerospace Exploration Agency (JAXA) and NASA, is designed to detect X-rays with energies ranging from 400 to 12,000 electron volts (visible light is 2 to 3 electron volts). Viewing the skies in this range will provide astronomers a rare look at some of the universe's hottest regions, largest structures, and objects with the strongest gravity, according to NASA. In doing so, XRISM should reveal pieces from the origin story of the universe and how it came to be.
"Some of the things we hope to study with XRISM include the aftermath of stellar explosions and near-light-speed particle jets launched by supermassive black holes in the centers of galaxies," Richard Kelley, NASA's XRISM principal investigator, said in a statement. "But of course, we're most excited about all the unexpected phenomena XRISM will discover as it observes our cosmos."
Compared to visible, infrared, and ultraviolet light, X-ray wavelengths are so short that they can pass straight between the atoms of dish-shaped mirrors that are used to capture other forms of light. In order to capture the cosmos in X-rays, astronomers use nested curved mirrors turned on their sides, whereby the X-rays skip off the surfaces like stones across a pond and into the detectors, NASA wrote in its statement. XRISM has 3,200 individual mirror segments in the two mirror assemblies.
The satellite carries two instruments, Resolve and Xtend. Resolve measures each individual X-ray's energy, providing information about its source, such as its composition, motion, and physical state. XRISM's imaging instrument, Xtend, provides the satellite with one of the largest fields of view of any other X-ray imaging satellite, observing an area about 60% larger than the average apparent size of the full Moon, according to NASA.
XRISM will launch on board a H-IIA rocket from Japan's Tanegashima Space Center. The launch was originally scheduled for Sunday but was postponed due to bad weather, and a new launch date will be announced soon.

"Once XRISM begins collecting data, scientists will have the opportunity to propose sources for the mission to study," Mihoko Yukita, an astrophysicist at Goddard and Johns Hopkins University in Baltimore, and a member of the team at NASA's Guest Observer Facility for XRISM. "Researchers from around the world will have access to the cutting-edge work XRISM will be doing."
Packed alongside the X-Ray satellite is JAXA's SLIM (Smart Lander for Investigating Moon), a small lunar lander designed to test a new technology for pinpointing a specific landing site on the Moon within a smaller range of 328 feet (100 meters).

 For more spaceflight in your life, follow us on Twitter and bookmark Gizmodo's dedicated Spaceflight page.