If you thought Jawbone would just make Bluetooth headsets forever, you were mistaken. (Those of us who bet that the fashion-forward company's next product would be a handbag were also quite wrong.) Meet the Jambox: It's a thumpin' portable speaker.
JAWBONE JAMBOX
Price: $199
Available: November 16th at Apple Stores or Best Buy (pre-order today)
Audio Input: A2DP Bluetooth or 3.5mm Audio cable (included)
Battery Life: 8 - 10 hours
Weight: 12 ozs
Wireless Range: "at least" 33 feet
Dimensions: 151mm L x 57mm W x 40mm H
G/O Media may get a commission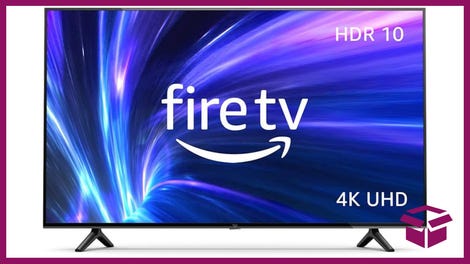 42% Off
Amazon Fire TV 50" 4K Smart TV
When you think about it, the Jambox isn't soooo different from a Jawbone Icon: Both pair easier than magical socks; both are designed by Yves Behar and come in a candybag of colors; both stream audio over Bluetooth and charge via a micro USB cable; and both listen as well as they talk. In addition to being an A2DP music-maker, the Jambox is a full-duplex speakerphone packed with its parent company's bread-and-butter noise-canceling voodoo. It is, however, considerably larger than its sibling.
The Jambox is about the size of a standard remote control—just a couple inches shorter and a couple inches thicker. I guess that means it's about as wide as a remote control. Hm. You know what it's the size of? One of those one-pound blocks of Velveeta. Except it weighs four ounces less, costs about $193 more (depending on where you live), and doesn't melt deliciously over anything you can pull out of the fridge. Nutritional information for the Jawbone Jambox was unavailable. All I can tell you right now is that, for a wireless speaker that fits easily in the dairy drawer, it bumps.