James "Whitey" Bulger became a kingpin because he was a ruthless killer—and because he masterfully exploited his side gig as an FBI informant. These are the two truths hammered home in Black Mass, which studies a singular criminal career and yet feels disappointingly generic.
Perhaps it's Boston setting—specifically, South Boston—the underworld of which we've visited several times in the past decade or so, thanks to Ben Affleck, Clint Eastwood, and Martin Scorsese. (The latter's 2006 Best Picture winner The Departed was also inspired, albeit more loosely, by the Bulger case.) Black Mass, which takes place mostly in the 1970s, dutifully includes the period-appropriate unflattering hairstyles and clothes; Johnny Depp, who stars as Bulger, is as un-cartoonish as he's been in years, but he's still outfitted with a bald cap, grotty teeth, and unnervingly blue contact lenses. The entire cast (which is full of familiar faces stuffed into smallish parts—what's up, Kevin Bacon and Benedict Cumberbatch?) has a grand old time with the de rigueur South Boston accents. These are all signifiers we've seen before, in previous and superior films.
There's also plenty of violence, a necessary part of any gangster drama. People are beaten to death, strangled with rope, sprayed with drive-by bullets, and shot at point-blank range. We watch as an eerily calm Bulger crushes the life out of a teenage prostitute who may or may not have let sensitive information slip to the cops about Bulger and his associates—one of whom is her stepfather, who stands by and watches her die. Sure, it's horrifying in the moment, but it's hardly unexpected.
Throughout, Black Mass—the third feature for director Scott Cooper, after the similarly dude-centric Crazy Heart and Out of the Furnace—hits all the expected beats with its two leading characters. Bulger's psychopathic viciousness increases with every new personal tragedy, a motivation that's already obvious enough without one of his underlings pointing it out in voiceover. FBI agent John Connolly (Joel Edgerton)—who recruits his childhood idol Bulger into the fold, then spends the rest of the movie looking starstruck and/or covering for the fact that Bulger is quite obviously playing the Bureau to get away with murder—digs himself into a cavern of corruption he'll never escape. Bulger's Winter Hill Gang lieutenants grow more and more disillusioned as the years pass; we never see them enjoying the fruits of their success, save one delirious scene in a Miami nightclub.
G/O Media may get a commission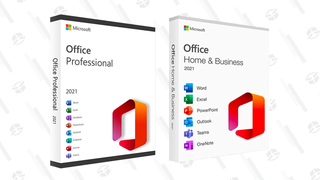 89% off
Microsoft Office Professional 2021 Lifetime License
Black Mass takes some standard-issue shortcuts, as when it compresses events and characters, but it does toss in some intriguing factoids and a few memorable moments (the script is by Mark Mallouk and Jez Butterworth, based on the book by Dick Lehr and Gerard K. O'Neill). We learn that Bulger participated in government-sponsored LSD experiments in prison. (Seriously, where's that movie?) We take a brief detour into the mystifying world of jai alai, a subplot that injects some much-needed energy and allows a sweaty, coked-up Peter Sarsgaard to steal every one of his handful of scenes. We hear an awful lot about how important the control of vending machines was to Boston's warring criminal factions.
At any rate, the fact that the plot yields few substantial surprises is not really shocking, considering Black Mass opens with Bulger heavies Todd Weeks (Jesse Plemons), Steve Flemmi (Rory Cochrane), and John Martorano (W. Earl Brown) submitting to interrogations as they semi-reluctantly become government witnesses. After that, it flashes back in time, and thereafter there's very little narrative momentum to speak of. Plus, anyone who watches the news already knows how this movie ends, since Bulger's extremely high-profile capture (after time served haunting the FBI's Most Wanted List) came less than five years ago.
Mostly, when we're not watching Bulger glower or Connolly flail, we're being lectured about the gangster version of honor, which states that anyone who rats on his brethren is the worst of the worst. LOYALTY is the CODE OF THE STREETS, people. Under Bulger's stern tutelage, even guys who are simply suspected of snitching are knocked off with abandon. That's why, at first, it's startling how easily Bulger agrees to align himself with Connolly, who gets at him through Bulger's brother (Cumberbatch), a slippery politician. But Bulger's ulterior motive is soon made obvious: "I don't consider this rattin'. This is business." Later, as he explains to a disbelieving Flemmi, "It's not informing if you're bringing down the cocksuckers who deserve to be brought down." Which is what he proceeds to do, helping the FBI build a case against his Boston-mafia rivals.
Connolly is actually the more intriguing character here. This is a guy whose desperate need to be valued by Bulger became all-consuming (at one point, his boss, played by Bacon, insinuates his feelings for Bulger are less than platonic), and whose also happened to be a master bullshitter. Though his FBI colleagues eventually become suspicious, the only people he absolutely can't fool are his wife (Julianne Nicholson)—who's pictured in one key scene reading a copy of The Exorcist—and a DA (Corey Stoll) who arrives late in the game, intent on cleaning house.
Ultimately, and this is not a spoiler, everybody falls, though Bulger at least got to live free for 16 more years. Frustratingly, Black Mass devotes no more than five minutes of screen time to those fugitive times. How did he get by all those years? How did he keep that hair-trigger temper in check and refrain from knifing annoying people in the supermarket? How did he meet the woman who helped him stay underground, and what was their life like? (Apparently scenes were filmed with actor Sienna Miller, but were later cut.) Keep wondering, because Black Mass would rather follow a well-worn gangster-movie template than carve out any new turf whatsoever.