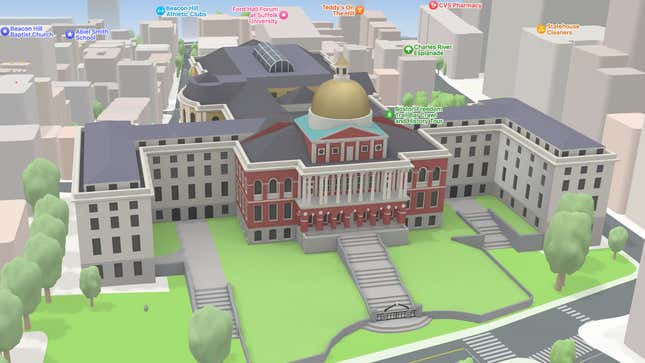 Apple Maps users who were thinking of visiting ol' Beantown, AKA Boston, can now get a sneak peak at some of the area's most famous landmarks in 3D after Apple added it to its growing list of cities with select hand-crafted 3D models.
Buy Now or Wait? How to Avoid Tech Buyer's Remorse
Tech blogger Frank McShan first noticed that Boston was getting paid its due with colored, 3D accurate buildings. Without any official announcement, and being a stranded New Yorker myself, we have Boston's own Dan Moren to thank for showing us which landmarks are now showing up in a full three dimensions, and how they compare to real life.
In the Apple blog SixColors, Moren wrote that there's now full-color 3D representations of major landmarks like Fenway Park, Beacon Hill, Paul Revere's House, the Bunker Hill Monument, Quincy Market, Old North Church, and Trinity Church, plus Copley Square.
There's also South Station, TD Garden, Boston City Hall, the Museum of Fine Arts, the Isabella Stewart Gardner Museum and the Boston Public Library. And though it's outside Boston proper, Apple Maps also shows off the Strata Center at MIT.
As a non-Bostonian, it's hard to judge how accurate the 3D displays are, but Moren seemed impressed with little touches like the golden frames around the South Station main doors and accurate chimney placement on the Quincy Market building. There's a few missteps here and there, like a missing pinecone on top of the Beacon Hill statehouse and "blobby" statues outside the Boston Public Library.
Apple has been working on integrating even more 3D into its Maps app for years. First introduced in 2021, these so-called "Detailed City Experiences" use satellite imagery and 3D models to allow users to view a colored, 3D model of major landmarks amid the vague 3D silhouettes of surrounding buildings in major cities around the world. Currently, Apple Maps shares a "Detailed City Experience" in:
Atlanta, GA
Chicago, IL
Las Vegas, NV
London, United Kingdom
Los Angeles, CA
Melbourne, Australia
Miami, FL
Montréal, Canada
New York, NY
Philadelphia, PA
San Diego, CA
San Francisco Bay Area, CA
Seattle, WA
Sydney, Australia
Toronto, Canada
Vancouver, Canada
Washington D.C.
Apple is still trying to compete with the most popular navigation app by far, Google Maps, especially as Google released a "photorealistic aerial view" feature last year that included the areas around 100 major landmarks, including Big Ben in London and the Empire State Building in New York City. The company's new "immersive view" feature was revealed in February for London, Los Angeles, New York, San Francisco, and Tokyo, letting users stroll through a full-color 3D city and seamlessly transfer to street view. Google promises the feature will include more cities in the future.