The Rise of the Planet of the Apes sequel might feature some talking apes. Ridley Scott drops more Prometheus hints. Bruce Campbell will be in Oz, the Great and Powerful. Plus what's next on Doctor Who and American Horror Story!
Deadly Mississippi Tornado Kills More Than 2 Dozen | Extreme Earth
Spoilers from here on out!
Top image from Prometheus.
The Avengers
When asked how he balanced the giant action setpieces and quiet character moments between eight main characters, director Joss Whedon quipped that he solved the problem by making the movie nine hours long. Whedon explained that a lot of the heavy lifting was done with the prior casting of these particular actors as the Avengers:
"They cast people who are actors so people watch them act, so you want to have these quieter moments. The tension between those scenes and the momentum of the film is ultimately what is going to make the film exciting, but it's going to make the editing processs unbearable."
He also discusses the specific casting of Mark Ruffalo and Samuel L. Jackson:
"I wanted Mark Ruffalo to play Bruce Banner because he's just an open book. He lets you into his heart and you understand everything that he's feeling. He's very open and that's just who he is as a guy and how he performs.

"Sam Jackson? He's Sam Jackson. I'm sorry! He's got that piercing look, but in my movie, he can only pin you to the wall with one eye. At the same time, he's extremely sensitive and textured and that's what I wanted from Nick Fury. I didn't want him to be a bluster, because we've seen that."
G/O Media may get a commission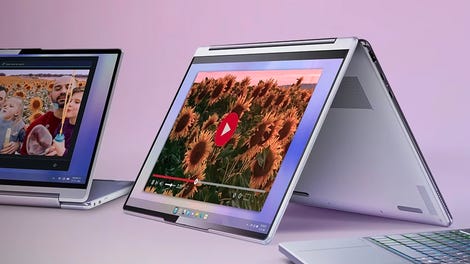 up to 70% off
Lenovo Spring Clearance
[FilmInk via Comic Book Movie]
Whedon also explains how shooting this movie was most like, of all things, making Dr. Horrible's Sing Along Blog:
"You know, at the end of the day, the first thing I was saying for the first two weeks was this was more like making an internet musical than anything I've ever done. It's that same high end/low end thing where the schedules are crazy, the sets aren't ready, you're constantly changing your schedule and working it out, writing it as you go. The script took me a long time and there was a point at which I was shooting it, writing it and editing all at the same time because I had to get sequences out early because they had special effects and they take a long time. I would film all night and go to Starbucks to write for the next week."
He also confirms that he completely threw out Zak Penn's original draft script and started from scratch. He gives credit to Marvel for letting him do this when they were already on a tight timeline. Indeed, Whedon explains the general craziness of trying to get such a giant project made in briefly profane terms:
"There's a lot of practical stuff that you shoot elements for it. It's super boring. It's incredibly boring. Because of how long all of that stuff takes on The Avengers, it would be again just like making any other movie. I would have at least four pages to shoot of a day if it was dialogue. If I really wanted to work with the actors, most of whom I had never rehearsed with as they weren't available. It was very odd, but it had that 'run and gun' feel. Because Marvel is actually a wonderful place to work and Kevin [Feige] is great and Jeremy Latcham, who was the producer on the movie, is extraordinary and tireless and enthusiastic. There was nobody going, 'Well, this movie cost a lot of money so you better not fuck it up.' We were just telling a story."
Here's two newly released promo images. [ComingSoon.net]
---
Star Trek Sequel
Director J.J. Abrams says the final movie will most likely be in 3D, but they're planning to shoot in 2D:
"We're shooting on film, 2-D, and then we'll do a good high-end conversion like the 'Harry Potter' movie and all that. Luckily, with our release date now we have the months needed to do it right because if you rush it, it never looks good. We were talking about [shooting in IMAX] and I would love to do it. IMAX is my favorite format; I'm a huge fan."
And while Abrams won't say too much more, he is willing to admit they now have a finished script, and he's very happy with it:
"It's a little early to be talking about 'Star Trek,' but I will say that they wrote - the three writers, Damon [Lindelof], Bob [Orci] and Alex [Kurtzman] - they wrote the most amazing script, and I'm thrilled to get a chance to direct it. It's totally mine to screw up, so if you don't like it, it's completely on me. Our sets are almost done, so we're going to go back and start shooting next month."
[MTV]
Writer Roberto Orci says they have written a part for Bruce Greenwood to return as Christopher Pike, though since Greenwood didn't sign a multi-picture deal, there's no guarantee he will be back in the sequel. [Trek Movie]
This is coming from an inside source, but you can probably go ahead and believe it anyway - according to "sources close to the next film", there won't be any more returning TV cast members in the sequel. Which, you know, just seems like the most likely thing anyway, even if this particular report isn't actually on the level. [Showbiz 411]
---
Prometheus
Director Ridley Scott explains that Noomi Rapace's Elisabeth Shaw and Logan Marshall-Green's Holloway are at odds with each other, as "one comes from a position of faith, and the other is pure scientist." He also says that bioengineering and biological warfare are big themes of the movie, tying in with his recent speculation that the Xenomorphs were created as weapons of war. There are some more minor details at the link. [Alien Prequel News]
---
Rise of the Planet of the Apes
First movie screenwriters Rick Jaffa and Amanda Silver are also writing the sequel. Silver explains one of the biggest questions facing them as they work on the new movie, although she doesn't explicitly answer it:
We're working on the sequel right now, to the prequel, and so the excitement is – I'm not gonna tell you, but – are they gonna talk or not? Part of the challenge was how to get across what was happening between the apes without words. In the end I think it was a good challenge for us. It created better storytelling.
---
The Hobbit
Here's a larger, high-res version of the recently released photo of Martin Freeman as Bilbo Baggins. [ComingSoon.net]
---
The Adventures of Tintin: Secret of the Unicorn
When asked what sorts of questions he would ask Tintin creator Hergé, star Jamie Bell explains the challenges of understanding Tintin's character:
"I'd just generally ask questions about the character – like, who is he? Why is his only friend a dog? Why does he hang out with someone who has terrible control of his vices? Where are his parents? I trawled through all 23 adventures, in preparation, just to try and find all these answers … and it's impossible. I think that's because Hergé himself is also an enigma … even his name isn't real. That's his initials, reversed. His real name is Georges Remi. I think that the allure of Tintin is the mystery of who he actually is. The spirit of Tintin is really the thing about him … he's a beacon of excellence for children. He's also a character who relies on nothing else other than his own great, natural, fearless heroic instinct. And that's a great message. You can be great just by being yourself."
Director Steven Spielberg weighs in on the movie's larger themes:
"The thing that I was excited about … with this story is how important it is to know who your friends are. And to remain loyal to your friends – despite what you hear, despite the mistakes that are made in friendships. So this really is a story about trust and friendship and fidelity to each other."
There's plenty more at the link. You can also check out an interview with Nick Frost here. [Spinoff Online]
---
The Adventures of Tintin Sequel
As for the sequel, Spielberg says they have already chosen the particularly Tintin book to be adapted - which may well be The Calculus Affair, as producer Kathleen Kennedy recently suggested - and the movie will see an expanded role for Simon Pegg and Nick Frost's Thompson and Thomson. [Spinoff Online]
---
Oz, the Great and Powerful
National treasure and longtime Sam Raimi collaborator Bruce Campbell will appear in a cameo in the director's upcoming Wizard of Oz prequel. Here's Campbell's description of his role:
"The scene that I shot was a page [of the script] and it took all day. It was great to see the scope of Oz and to see the detail, and the craftsmanship and the professionalism and the incredible stuff that they're doing visually in every other way... I play a pivotal role. It involves me and Oz – that's James Franco – and let's just say that we have a confrontation. It was a very fun role to do actually."
---
Wrath of the Titans
Here's a bunch of promo posters for the Clash of the Titans sequel. [SpoilerTV]
---
Doctor Who
Here are some spoiler-y tidbits for the Christmas special, "The Doctor, the Widow, and the Wardrobe":
- The pre-titles sequence may just be the most audacious cliffhanger in Doctor Who history.
- Listen out for references to no less than two Peter Davison era stories: one a direct wink to the fans, one possibly unintentional.
- If the Doctor ever gives you a present, it will probably take the form of a blue box. Well, naturally. Do not open it before Christmas.
- Time Lord wisdom #1: Panthers are terrifying.
- Time Lord wisdom #2: There's no such thing as foretelling.
- Time Lord wisdom #3: Doors are irresistible.
- It's considerably more linear than last year's Christmas special.
- It lines up alongside The Green Death as one of Doctor Who's more ecologically-minded stories.
- You may even feel a pang of conscience as you look at your Christmas tree. Now that's subversive, Mr Moffat.
You can read some more at the link. [SFX]
Steven Moffat explains that this special isn't a direct adaptation of the special's namesake, the classic C.S. Lewis novel The Lion, the Witch, and the Wardrobe:
There's a slight flavour of Narnia in this one, yes - it's not the same story at all by any means. Last year we pretty much did A Christmas Carol beat-for-beat, but this time it's just a sort of flavouring of that really.

The Doctor ends up in debt to someone, his life is saved by someone, and a few years later he returns to save their Christmas because these children have just lost their father - of course being the Doctor he just endangers them terribly, but that's sort of what he's like.
He also again makes it clear that that David Yates Who movie isn't happening, but it sounds like he really is intent on making one himself at some point down the line:
It's an imaginary film. David Yates - a very brilliant director - was talking off the cuff and slightly off-message. We're not going to do a film of the nature that he described, which would be rebooting the story and having a different Doctor and being in a different continuity - that would never happen, that would be insane and that would be insulting to the audience. I hope one day we will do a film, maybe even soon, but it will be very much an offshoot of the television series with the same Doctor and all that.
Matt Smith says he particularly enjoyed working on the Christmas special with child actors Maurice Cole and Lily Evans, and that their characters tap into a childlike part of the Doctor's own character:
"The children in it were marvellous. They're the real heart of the episode and they make it a joy to watch. What's wonderful about the Doctor is he's lots of different people. Because he's very old he can be very grave and have the weight of the world on his shoulders, but he can also be playful like a child. So I get both of those elements and when you put them together there's a big explosion, which is great."
---
Fringe
Here's a promo for the midseason premiere, "Back to Where You've Never Been", which airs January 13. You can check out the link for some additional analysis. [BuddyTV]

---
Game of Thrones
Here's a new behind-the-scenes video form the Belfast set.

---
True Blood
Executive producer Alan Ball has now confirmed that Law & Order: Special Victim Units veteran Christopher Meloni will indeed appear on the next season, describing his character as "an ancient, powerful vampire who holds the fate of Bill and Eric in his hands." [TVsomniac]
---
Person of Interest
Here's a short synopsis for episode eleven, "Super", which airs January 12:
Reese works the computer while Finch does the legwork with their latest POI, a building super who keeps too close an eye on his tenants. Meanwhile, Detective Carter may finally get her long-awaited glimpse into a case.
---
Chuck
Star Zachary Levi discusses the return of Brandon Routh's Daniel Shaw in this week's Christmas episode, "Chuck vs. the Santa Suit." As he explains, Shaw has always been the perfect villain for Chuck:
"Other bad [guys] for example, like Volkoff, [were] very formidable opponents, but I wasn't fist-fighting Volkoff. Daniel Shaw and Chuck Bartowski, we were contemporaries and we were enemies — and friends at one point and then you know, enemies. Frenemies! And we were both the same age and stuff, and also in some ways, vying for the love of the same girl… That was very messy — all that stuff."
Executive producer Chris Fedak also explains why they brought back Shaw:
"We wanted to do a monster story. We wanted to do a Christmas story, but Christmas is such a holiday haunted of the Charles Dickens tradition, so when we started thinking about a Christmas story, we said 'Let's bring back a monster from our past.' And Brandon — at the end of season three, Brandon was such a 'Muahaha' bad guy. And I said 'We've got to bring back the 'Muahaha' bad guy'!"
Check out the link for more. [Examiner]
---
Once Upon a Time
Here's a ton of promo photos for the Jane Espenson written midseason premiere, "Desperate Souls", which airs January 8. [multipleverses.com]
Here are short descriptions for the next three episodes:
Episode 8 "Desperate Souls" (Airs January 8 )
Emma runs for public office, leading Regina and Mr. Gold to indulge in dirty politics; Rumpelstiltskin searches for a power source to help his son avoid war.

Episode 9 "True North" (Airs January 15)
Emma tries to save two children from the foster system by finding their birth father; the evil queen has Hansel and Gretel steal an artifact from a blind witch.

Episode 10 "7:15 AM" (Airs January 22)
David and Mary Margaret continue to struggle with their feelings; a mysterious stranger in town makes Regina and Emma suspicious; Prince Charming's wedding approaches.
[KSiteTV]
---
American Horror Story
This is coming from an inside source, so we can't really vouch for its authenticity, but here are four spoilers from tonight's 90-minute finale, "Afterbirth":
1. Vivien's baby will be, well, "older" in the finale.
2. Tate is not who he appears to be, if we could actually call him…Tate…
3. Constance is holding onto something. She won't let go; even though she knows the truth about what is going on. Her love for her children will be her doom, be it emotional, physical or eternal.
4. Ben's mental stability collapses; he is torn with grief; Constance can not snap him out of it, even to save herself.
You can read four more at the link, as well as check out two sneak peeks here. [Oh No They Didn't]
Tate actor Evan Peters discusses his future on the show and what to expect from the finale:
"Next season, I don't know when it starts. We don't even know if we're in it. It could be a whole new cast, it could be the same people, we don't know. [The finale] does give you a little taste of what's to come, I think. And it sort of gives you a good idea of what direction these kids are headed in the next episode, which is pretty cool. Hopefully next season they'll elaborate on that. It's definitely going to be shocking. You're thrown a few twists and turns and you really do not know what's gonna happen. You've gotta pay attention and make sure all the lights are off, because it's a scary one."
There's some more at the link. [Examiner]
---
The Vampire Diaries
Executive producer Julie Plec reveals that the January 12 episode, the second episode of the second half of the season, will focus on Caroline turning 18:
"It's a big [one] for Caroline. "It's emotional. It's scary. It's very, very, very powerful. It's a big episode for the friends — for Elena and Matt and Bonnie and Caroline. It's a big episode for Tyler and Caroline's relationship. It's a massive episode for Stefan and Elena, and Stefan's pissing contest with Klaus and the lengths he is willing to go to make his point, not giving a damn about anyone or anything. It's a big episode for Damon's continued evolution as villain to hero. It's just a nice episode all around."
Plec also discusses the fallout of Stefan's apparent betrayal of Damon and Elena:
"[It leaves them] fraught with sexual and romantic tension and very, very, very angry at Stefan. It leaves them thrown together to defend themselves against whatever Klaus' next move is going to be. It leads to a fairly interesting showdown between Damon and Stefan in which Damon literally tries to beat the answer out of Stefan as to why Stefan betrayed him and ruined his plan."
Finally, Plec discusses what's next for Rebekah:
"She let herself get emotionally duped by Elena, and Elena literally stabbed her in the back. [Her anger will be] a big problem for Klaus, who doesn't want anything to happen to [Elena], and for Elena herself, who pulled the ultimate mean girl back stab and is going to have to pay the price for that. She's just mad period, all around."
[TV Line]
---
Additional reporting by Natalie Baaklini and Charlie Jane Anders.