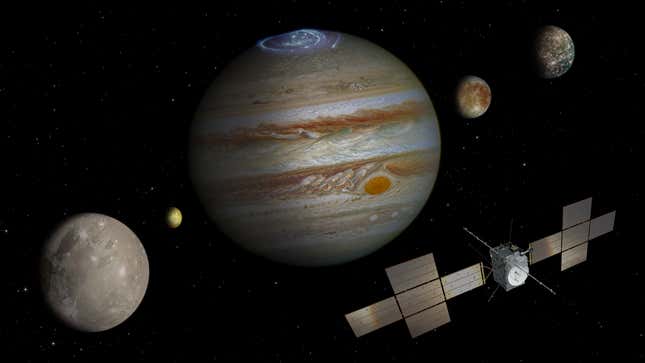 It's been less than two weeks since the European Space Agency's (ESA) JUICE mission began its journey to Jupiter, but the spacecraft has wasted no time getting itself ready to explore the gas giant system.
What Is Carbon Capture? With Gizmodo's Molly Taft | Techmodo
JUpiter ICy moons Explorer, or JUICE for short, showed off a glimpse of its scientific abilities after deploying its magnetometer boom and recording a blip of its surrounding magnetic field. The JUICE magnetometer boom (J-MAG) was deployed on April 21 when the spacecraft was around 1 million miles (1.7 million kilometers) away from Earth, according to ESA. The science instrument captured the moment of its deployment using two of its sensors.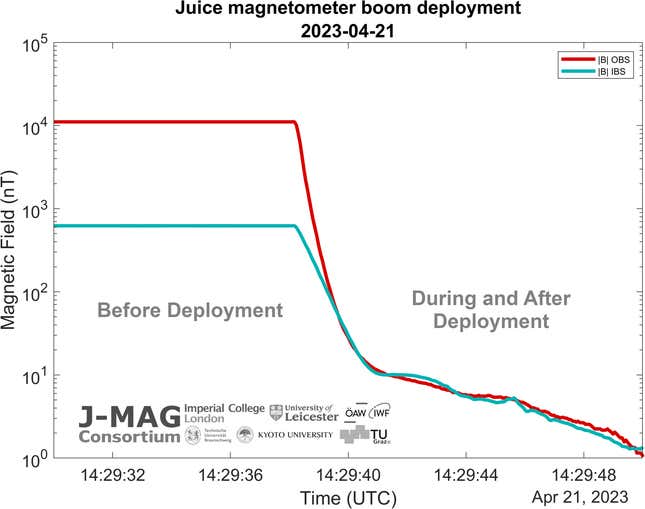 The graph above shows the initial data collected by the boom, with each of its sensors represented in a different color. The flat line shows the magnitude of the magnetic field before deployment and the curve that follows is the moment J-MAG was switched on. The two sensors are located up against the side of the spacecraft next to its thrusters, which are "quite magnetic, explaining the difference in the two field magnitudes," ESA wrote in its statement. The field magnitudes take about two seconds after the boom's deployment to stabilize, measuring the magnetic field of surrounding solar wind.
JUICE's magnetometer boom will be used to record measurements of Jupiter's magnetic field and how it interacts with the internal magnetic field of its largest moon, Ganymede, as well as to probe the subsurface oceans of the planet's icy moons.

ESA's JUICE launched on April 14 on a 12-year mission to study three of Jupiter's icy moons: Europa, Ganymede, and Callisto. Shortly after launch, JUICE captured its first images of Earth, as well as the deployment of its solar panels. Over the next week, the mission team will begin the detailed commissioning of the rest of JUICE's 10 scientific instruments. That will include switching on J-MAG's third sensor, which will be used to measure the magnetic field magnitude in more sensitive ranges.
It's going to take JUICE eight years to get to Jupiter, the spacecraft is expected to arrive at the gas giant system in 2031.
For more spaceflight in your life, follow us on Twitter and bookmark Gizmodo's dedicated Spaceflight page.