Fans have noticed one important thing about Justice League since the film was first shown: It's not as dark as Zack Snyder's older work. Like, not nearly as dark. Apparently, that was the intention from day one.
In an in-depth interview with Kodak, the film's cinematographer, Fabian Wagner, talks the film's style, his approach to filming, and the benefits of the 35mm film, which Justice League was shot with. According to him, the film's lighter visual style, which many of us assumed was a response to the less-than-stellar reception of Batman V. Superman and Suicide Squad, was in place from the beginning of shooting in April 2016.
As discussed in the article, Wagner replaced Larry Fong, Snyder's longtime cinematographer. Wagner, who earned a 2015 Primetime Emmy nomination for his work on Game of Thrones, relates how he met with Snyder very early on to discuss his vision for the film:
He is a huge fan of the original comic books and the characters and has a fantastic knowledge of that world. We chatted for an hour or so about his general ideas for the production, moving the look forwards. Zack wanted to get away from the stylized, desaturated, super-high contrast looks of other films in the franchise. I am someone who likes to light very naturally, so that fitted my work ethic. It had already been decided that Justice League would shoot on 35mm film, and although I had not shot celluloid for several years, I was excited by the prospect.

So the lighter visual style isn't necessarily a reaction to the other films, or an indication of studio changes after Snyder left the film. This is, apparently, what he always intended. It makes sense, really. Batman V. Superman is a film largely interested in trying to move from bleak pessimism to a more traditionally superheroic optimism. Using lighter tones for the followup is a natural choice.
In the interview, Wagner also revealed a reason Snyder might be such a fan of 35mm: it makes his pet slo-mo shots easier. He says:
The beauty of working with the 500T is that, in combination with the lenses and the lab [i-Dailies, now Kodak Film Lab London at Pinewood], I could push the stock several stops and quickly adapt to his request, while retaining the image quality. For example, to obtain the correct exposure for shooting at 120fs, I would open the lens by one or two stops, to around T2.8, and then push process at the lab by a further stop or two as required – all without having to radically change or put more lighting into the scene. It takes ten seconds to do."
G/O Media may get a commission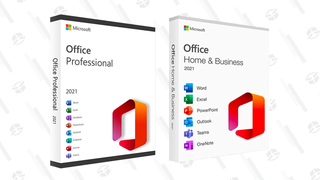 89% off
Microsoft Office Professional 2021 Lifetime License
Well, at least they're convenient. Though, considering how often Snyder likes to use them, maybe it would be better if they were a little harder to pull off. So, y'know, he didn't do quite so many. Just a thought.
The full interview is on Kodak's website, and I recommend checking it out if you're into film and photography stuff. Justice League hits theaters November 17th.
[Kodak]