Splitboarding has been around since the mid-'90s as a way to make backcountry snowboarding available to the 99 percent of us who can't afford helicopters. It's essentially a snowboard that splits down the middle, turning into a pair of skis so you can climb uphill when you're far away from a ski lift. When you reach the top, you re-Voltron them, and snowboard back down.
The thing is that these systems have always required a bunch of extra hardware, which translates to a bunch of extra weight and pain-in-the-assiness. Except, this year, K2 managed to shave off a whopping four pounds for its Ultra Splitboard system. Not only is it the lightest splitboard system yet, it's not any heavier than a normal snowboard, and transition should only take half as long.
Why Splitboard?
Not surprisingly, a lot of people find the ski resort scene to be exhausting. It's expensive, noisy, and often dangerously crowded. For them, the backcountry is a refuge, offering quiet, wide-open spaces (and, y'know, the occasional avalanche, but whatever). The thing is, snowboards don't go uphill. That means you've got to hike up those powder-covered peaks, which is slow and exhausting. You could use snowshoes, but that's adding even more extra weight and bulk to your kit in both directions.
Splitboards do away with that. Instead, you have one piece of equipment (your board), which splits into skis, dramatically increasing your surface area on the snow. You also attach a pair of "skins" to the bottoms of the skis. Skins are long strips of synthetic hyde that have a grain to them—like an animal's fur. When you're moving forward, the skin pushes down flat so you can slide your foot freely, but then the "fur" catches so you don't slip backwards. They're essentially like extra tread for your skis. They're light and flexible, and, when you're ascending, you just roll them up and stuff 'em in your backpack.
G/O Media may get a commission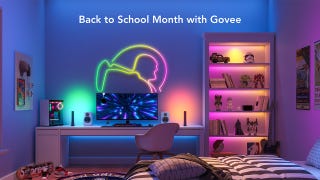 Back to School
Back to School Month with Govee Sale
The Kwicker System
K2's approach for the Ultra Splitboard utilizes a bunch of existing technologies, but it combines them in a rather ingenious way. It uses a step-in binding system that does away with unwieldy pins and redundant hardware. Instead, it uses a Voile puck and plate system paired with K2's backcountry Stark Boot. The boot has several boas which can be adjusted for internal stability (it's supposedly like having an internal ankle-strap). In other words, you can just step onto the board, click-in, and head down the mountain without having to deal with straps and additional brackets (saving more weight).
When you want to want to switch from board-mode to ski-mode, you simply lift a lever and remove the two pucks (oriented long-ways in the center of the board), unlock the two halves of the board, put the pucks back on (one on each ski now), and step back in to lock 'em down. Done. The whole switch will probably take you two minutes and it can be done without even removing your gloves—which could save your bacon, or at least your fingers, when the mercury is dropping.
That system is designed to be paired with the Ultra Splitboard, which uses bamboo to add strength while cutting weight. K2 spent a year in R&D creating a 360 degree flex test machine from scratch. They then put some of their most popular snowboard/boot combination into it in order to get an exact map of each system's flex patterns. They then stole their own flex patterns and ported them over for the Ultra Splitboard, tweaking it until they got something that should (in theory) feel just like a standard high-end snowboard.
The Kwicker system even allows for virtually any variation in stance, which was a failing of splitboards in the past: they had a tendency to lock your feet in at weird, bowlegged angles.
How Do I Get It?
You can get the Ultra Split Kit, which includes the Ultraspilt splitboard, skins, Kwicker BC Bindings, Voile Heel Risers and Voile Pucks for $1,000. You'll also need to get the K2 Stark boots, which will run you another $380. In other words, this is high-end stuff and it ain't cheap, but there are a couple other options.
If you already have a splitboard that you really like but you're really psyched about the speed and weight savings with K2's system, you can just buy the Kwicker BC Binding (BC for backcountry) separately for $200 and slap 'em on there. That's a much easier pill to swallow, although you'll still need the Stark boots. If you end up shelling out for the Kwicker/Stark boot system, you can also get the standard Kwicker Binding that will allow you to use your fancy Stark boots with your standard in-bound resort board.
As the powder starts to float down from the sky this winter, it will be interesting to see how the backcountry snowboard community takes to the new Kwicker system. It's a pretty big departure from the standard splitboard fare, and it won't be for everybody, but you're not going to find anyone complaining about four pounds less weight to drag up the mountain. [K2]