Kevin Smith has drunk the television Kool Aid. With an episode of The Flash under his belt, and the forthcoming Adventures of Buckaroo Banzai TV Show coming (which now has a home), Smith announced that his planned sequel to Mallrats is being reworked into a television show.
Smith's been working on the sequel for a while, titled Mallbrats, which was pushed back because of his work on other films, along with some legal issues. Speaking to WMMR's Preston & Steve Show, Smith outlined some of the issues that had been in the way with Mallrats. Originally, he had been told that he could likely write up a script and then simply license the title from Universal. It turns out that Universal didn't want to do that:
And so we submitted the script and my agent comes back to me and he goes, 'Well, apparently Universal has never let a catalogue title go, any title they own, they've retained, they've never done something where they're like, 'Oh, you can take it back and go make a sequel. Never in the history of the studio.' So, I was like, 'Wait, but you told me that was one of my options.' 'Well, apparently I was wrong. So, right now there are two options: you make it fully studio financed or you co-finance it with the studio.' So we entered a protracted negotiation with Universal trying to get it made in different pockets of the studio.
At that point, Smith was invited to direct an episode of CW's The Flash, finding that he "felt at home in the medium".
And suddenly because I did the episode of The Flash, like MGM reached out about Buckaroo Banzai and suddenly that came together and we went out and pitched yesterday and found a home for it. I can't say who it is because that deal is not final, but yesterday we sold Buckaroo Banzai as a TV series. So, while I'm in that world and space, a couple months ago, we started reconfiguring the idea of doing Mallrats not as a film but as a series, and Universal and I are just about to close our deal to do Mallrats the series. Then we take it out into the world and find a home for it. So, instead of doing a Mallrats movie, I'm going to do 10 episodes of a Mallrats series.
G/O Media may get a commission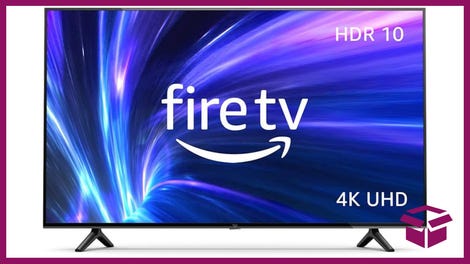 42% Off
Amazon Fire TV 50" 4K Smart TV
There's no word on when either project will hit television.