Unfortunately for one ambitious, young new resident of the California State Prison System, it seems there actually might be some justice in politics—at least for a 22 year-old caught stuffing a college election ballot box, that is.
In Matthew Weaver's bid to be student body president at California State University San Marcos, he decided to secure a win the only way he knew how—which just so happened to be stealing over 700 identities and passwords. But then he got caught—and sentenced to one full year behind bars.
The trouble started on election day when the school noticed something might be awry; hundreds of votes poured in in a matter of minutes from a single IP address. Clearly, Mr. Weaver was a candidate long on ambition but short on planning. Weaver didn't seem to realize the massive holes in his plan, though, because when law enforcement tracked him down, they found him seated obliviously at the very same, criminal computer.
After pleading guilty to "wire fraud, identity theft, and unauthorized access of a computer," the judge laid down his year-long sentence. But no hardworking baby-kisser goes down without a fight.
G/O Media may get a commission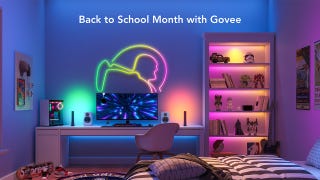 Back to School
Back to School Month with Govee Sale
Weaver and a friend created fake Facebook pages with real students' names in an effort to pin the crime on them as diehard rogue delegates, posting imaginary conversations about rigging the election. Political espionage, as told by Mantai Te'o. Strangely, pinning crimes on fake Facebook kids who happened to be friends with all the other fake Facebook kids you made up—all of whom met on the same day—did not work out in Mr. Weaver's favor.
As his judge told U-T San Diego:
He's on fire for this crime, and then he pours gasoline on it to try to cover it up.
But no need to feel too bad for him just yet—his classmates/constituents certainly didn't. Which is understandable considering he was best known for editing an unsanctioned newspaper that tended towards a Buzzfeed-on-bath-salts aesthetic, offering "humor" articles such as "Top Five Excuses for Rape" and "Top 10 Breakup Lines to Use on a Girl You Kidnapped."
Weaver will also owe Cal State San Marcos the $40,000 that his little hijinks ended up costing. But his year and jail is probably more of an immediate concern, considering his new incarcerated buddies probably won't warm up that easy to what the Assistant U.S. Attorney Sabrina Feve described as "an incredibly entitled young man." But! That sounds like wonderful material for a fresh round of post-release listicles. [LA Weekly via The Daily Dot]
Image: Shutterstock/BortN66