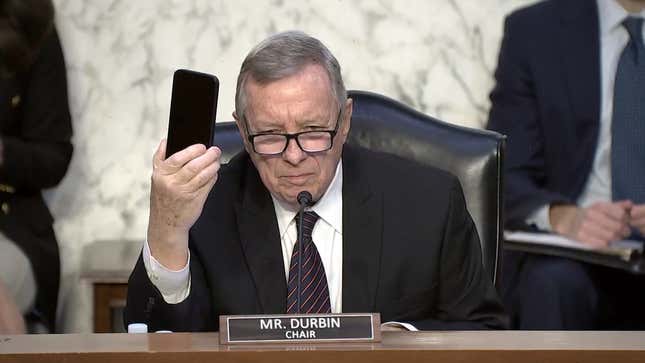 "The last search on his phone before Carson ended his life was for hacks to find out the identities of his abusers," said Kristin Bride, the parent of a child suicide victim and a social media reform advocate. Bride testified before a panel of senators about the cyberbullying that led to her son's death and the other problems that plague kids online. "These are not coincidences, accidents or unforeseen consequences. They are the direct result of products designed to hook and monetize America's children".
Twitter Verification is a Hot Mess
In a grim hearing Tuesday, the Senate Judiciary Committee heard testimony from victims and experts on the ways that social media contributes to addiction, cyberbullying, sexual abuse, and suicides among children on the internet. Politicians on both sides of the aisle echoed the call for change and discussed proposals that would create new responsibilities and oversight for technology companies.
"We lock the door and teach our kids not to talk to strangers. But in the virtual world, criminals and bullies don't need to pick a lock or wait outside the playground to hurt our kids," said Senator Dick Durbin, chair of the Senate Judiciary Committee. "They only have to work in the shadows online of Facebook and Snapchat. In those shadows, they can bully, intimidate, addict or sexually exploit our kids right in our own homes."
Americans tend to agree that big tech needs more regulation, but things fall apart when you get down to specific legislation. However, the horrors kids meet on the web are one of the rare issues with clear bipartisan agreement from both republicans and democrats.
"This is the one thing I think unites most Americans, is that most of them feel helpless," said Senator Lindsey Graham. "The American consumer is virtually unprotected from the adverse effects of social media. That needs to and I think will change."
Graham said he is working with Senator Elizabeth Warren, with whom he rarely agrees, on a bill that would create a new regulatory commission that "would have power to shut these sites down" if social media companies don't fulfill their duty to protect children.
On Monday, a coalition of democrats led by Durbin introduced the Clean Slate for Kids Online Act, a bill that would give Americans the legal right to demand that companies delete any data collected about them when they were younger than 13. The Clean Slate act would serve as an update to The Children's Online Privacy Protection Act, better known as COPPA, one of the only federal privacy laws on the books.
The Clean Slate Act is just one of a slew of recent bills that aim to give the government more oversight over the digital ecosystem. One of the more significant bills is the EARN IT Act, a bill that has been introduced every year since 2020 that would amend Section 230, part of a law that gives online platforms legal immunity for most of their users' behavior.
Social media companies are well aware of the tragedies children face on their platforms. On Tuesday, Gizmodo published the latest batch of the Facebook Papers, leaked internal documents from the social media giant that Gizmodo is in the process of releasing. In these documents, employees at Facebook (now known as Meta) discuss how Instagram encourages eating disorders and body image issues, and different strategies to address the problem. At the same time, other employees debate over the best ways to keep kids hooked on Facebook and Instagram.
"66% of teen girls experience negative social comparison on IG," a term for the negative emotions people feel after comparing themselves to others," Facebook employees report in one internal study. "32% of teen girls said that when they felt bad about their bodies, Instagram made them feel worse." The employees go on to argue about the accuracy of the data.
If you or someone you know is having a crisis or contemplating suicide, please call or text the Suicide and Crisis Lifeline at 988. You can also call the National Suicide Prevention Lifeline at 800-273-8255 or text the Crisis Text Line at 741-741.