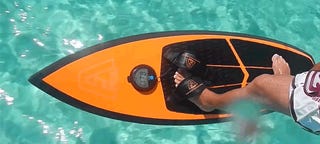 Everyone knows kitesurfing—which is pretty hard to master and can get pretty rough. Kitefoiling is something completely different. It's easy and it gives you the sensation that you're flying, smoothly floating at high speed inches above the sea. It's like Marty McFly's hoverboard—one that can only work over water.
Kitefoil uses a board with an hydrofoil fin under it, a carbon-fiber structure that effortlessly rises your board over the water providing with maximum speed and stability thanks to its hydrodynamic properties.
This video shows how it looks underwater:
It's a relatively new device: It was introduced in 2009 and very few people outside the kitesurfing world know about it. Mark White was the first person to use "this in a competition, in 2009."
---
SPLOID is a new blog about awesome stuff. Join us on Facebook