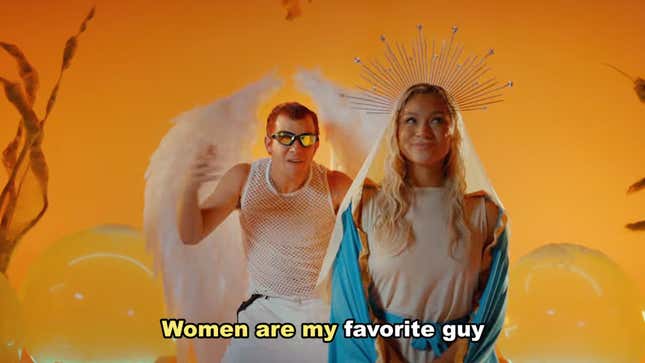 After playfully antagonizing the Internet with a revolving door of female vocalists, comedian Kyle Gordon is taking his viral summer parody song "Planet of the Bass" to the next level with a bona fide music video and extended version.

Why is the Dancing Baby an NFT?
I suppose this was the logical progression. Gordon released the first clip of "Planet of the Bass" on TikTok at the end of July, and in just a few short days, it became social media's newest fixation and has since racked up 8.5 million views on the platform. The track is a parody of '90s Eurodance, featuring the braggadocious DJ Crazy Times (played by Gordon) alongside a vaguely European vocalist known only as Ms. Biljana Electronica. The joke was funny and spanned two additional TikTok posts with a rotating cast of Biljana's.
The meme was so well-received that Gordon has now debuted a full-length track and yet another music video, which is set to premiere at 12 p.m. Eastern time.
"If you want parties to be making, have some noise," Gordon, as DJ Crazy Times, screams in the extended song's introduction, his voice dripping with some gravelly reverb to boot. "I've got an idea! World peace!"
The music video features the return of all three Biljana Electronica's. The role of the broken-English-speaking chanteuse was initially portrayed by actor Audrey Trullinger before she was sidelined by health influencer Mara Olney, which caused the internet to promptly go berserk over the recasting. A third Biljana was then played by TikToker Sabrina Brier. This approach served two purposes: It was a nod to Eurodance groups' tendency to replace members at random and it made the track viral all over again as social media users cried out for the return of the original Biljana. While Trullinger appears most prominently in the visual, Olney and Brier make cameos.
Gordon is far from the first TikTok user to get in on music. The difference between Gordon and other TikTokers, like the maligned musings of social media it-girl Dixie D'Amelio, is that Gordon has always been in on the joke while tapping music heavy-hitters in a feverish bid to commit to the bit: Biljana's vocals were recorded by veteran singer-songwriter Chrissi Poland, and Gordon signed a record deal with BMG for literally this one song. While most TikToker-turned-musicians tend to approach music more as a business venture and less as an art form, it's clear that the internet and music are but a canvas for Gordon to paint his hilarious Eurodance portrait atop.