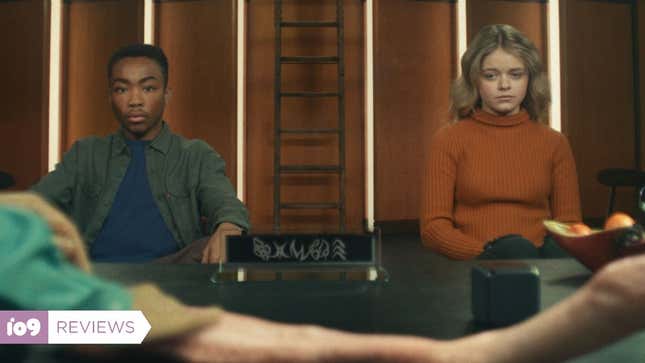 Based on its premise alone, sci-fi fans are sure to be intrigued by Landscape With Invisible Hand. In the film, based on a novel of the same name by M.T. Anderson, aliens have taken over the Earth and subjugated the human race. It's over. They won and we lost. So what happens next?

Is Taylor Lautner in the New Twilight TV series? | io9 Interview
Director Cory Finley (Thoroughbreds) starts there but moves beyond the initial premise very quickly. The film jumps wildly through different related storylines, each exploring new social contexts and constructs, never lingering for too long before moving to the next thing. It results in a film that's a bit muddled by the end, but constantly surprising and entertaining.
The realities of Earth's occupation are first seen through the eyes of a teenager named Adam (Asante Blackk). He befriends Chloe (Kylie Rogers), the new girl at school, and soon the pair begin to engage in "courtship broadcasts." You see, the aliens (called the Vuvv) are asexual and don't have anything resembling the human definition of "love" in their society. And so they pay to watch humans fall in love as entertainment, which becomes a lucrative source of income for the pair.
With that idea, modern audiences will probably think they know what happens next. Surely Adam and Chloe are going to become ultra-famous and the lines between what's real and what's performative will blur, resulting in a commentary on the evils of social media. And while there's some of that in the film, things instead take a hard turn in a new direction. The story expands, the stakes raise, and things get weirder. Later, just when you think you have the film pegged again, it changes again. New problem, even higher stakes, and even weirder circumstances.
Those huge shifts in the narrative are at first a little distracting. It's almost as if the film is knowingly abandoning its previous subtexts, undercutting everything that's come before it. But when it happens over and over, there's a realization that there's cohesion in the lack of cohesion. Maybe the movie means to not only explore all these different tangential offshoots, but it's also mirroring an unpredictable, uncertain future where humans are considered lower class to this mysterious alien race.
Even if you don't buy that though, the way Landscape With Invisible Hand handles those aliens is unquestionably rewarding. At the start, it seems like the film might keep the Vuvv and their world mysterious. But soon, the film goes the opposite way, showing us not just the aliens themselves in their full form, but a ton of other things about them. We're talking large-scale visual effects galore. All of this is yet another ingredient in the film's weird alchemy—which, again, takes away some of the focus but is also completely fascinating.
While the movie starts with both Adam and Chloe as the leads, it eventually shifts its focus much more to Adam, who is supported by an excellent, uncharacteristically low-key performance by Tiffany Haddish as Adam's mother (Haddish is also credited as a producer). There's also a younger daughter (Brooklynn MacKinzie), and this family dynamic weaves throughout, adding more layers and complexity to this scenario; warm, grounded performances all around add to that too. Chloe's family consists of a father, played by Josh Hamilton, and a brother, played by Michael Gandolfini, and while they're very much supporting characters in this story, they each bring an enjoyable, awkward tension to the screen.
It would be very easy to dismiss Landscape With Invisible Hand because in the end, it's not an easy film to categorize. The story sort of comes together, and it sort of doesn't. It gives you all these fascinating set-ups and crumbs to follow but leaves a lot of things danging. It's kind of funny and creepy, but also kind of bold and dramatic. I can see why some people may not like it. However, when the film ended, I had never been bored for one second of it. The world that's created and the characters that populate it are constantly engaging, in large part because I couldn't fathom what they would be put through next or what it was all ultimately going to be about. And while maybe it doesn't all work in the end, just to see an alien invasion story told with this level of heart and originality makes Landscape With Invisible Hand well worth a watch.
Landscape With Invisible Hand premiered this week at the Sundance Film Festival. It does not yet have a release date.
---
Want more io9 news? Check out when to expect the latest Marvel, Star Wars, and Star Trek releases, what's next for the DC Universe on film and TV, and everything you need to know about the future of Doctor Who.