"How do you build next to this beauty?" architect Liz Diller said yesterday, pointing next door to the glinting dorsal fins of Frank Gehry's Walt Disney Concert Hall as she stood in front of the new Broad Museum, which she designed.
It's kind of a shame that any talk of LA's most potentially exciting new building could not be uttered without comparisons to Disney Hall, but it's a fair point. Gehry's hunk of molten metal, crowning the city's Bunker Hill, became a lightning rod for LA architecture when it opened in 2003—but also began to draw serious attention back to its downtown. Any architect working in close proximity has to at least consider their project's relationship to what is admittedly one of the most batshit-crazy buildings to grace any city in any century. Now imagine that building is only a toss of balled-up Reynolds Wrap away.
The answer for how you respond to this architectural volley is to aim for opposites, or as Diller herself put it: "porous and matte" instead of "smooth and shiny." The Broad has plenty of curb appeal—I think they call it Instagrammability now—to make it a worthy foil to Gehry's work. And it is a welcome moment of personality among the neighboring soulless towers. But can it win the Battle of Bunker Hill?
Opposites attract: Broad vs. Disney, photo by Richard Vogel/AP
The Broad (pronounced "brode") houses the voluminous art collection of Eli Broad, the billionaire philanthropist who was not only instrumental in the creation of Disney Hall but at various times in his life has toyed with taking over the Museum of Contemporary Art (across the street) and purchasing the Los Angeles Times (two blocks away). They might as well just rename it Broad Hill.
G/O Media may get a commission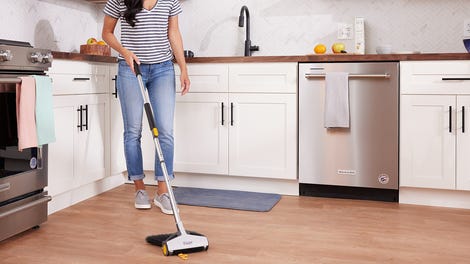 BOGO 50% Off
Flippr - BOGO 50% Off
Broad held a small competition to design the building, which was won by Diller's firm Diller, Scofidio + Renfro (DSR), the architects of the High Line in New York and plenty more nerdy-cool structures. Their concept has a snappy name not unlike a thriller coming to theaters this fall: "The Veil and the Vault." The vault is the climate-controlled core of the building designed for optimum storage and display of Broad's 2,000+ works; the veil is the concrete drape which is pulled up at the corners to let visitors inside.
The star of the show is the veil, made from 2,500 fiberglass-reinforced concrete panels which people like to say remind them of honeycomb or tripe or a cheese grater. Inside, these panels create a beautiful lattice of soft glow and shadows, but it's not just for show—the panels let in the perfect amount of diffused natural light for viewing Broad's collection, which rotates in and out of a giant gallery on the top floor.
The entrance to this gallery, via a birth canal of an escalator or glass elevator that feels like a pneumatic tube, is almost like arriving in heaven. Although I have to say that after seeing the gallery as a single column-free room during a hard-hat tour, it was sad to see it littered with temporary partitions and Jeff Koons sculptures. Most of all the Jeff Koons sculptures.
Robert Therrien's "Under the Table" in the gallery at The Broad, photo by Nick Ut/AP
Due to the veil it's also nearly impossible to look out of the gallery once you're up there, which is a normal thing to want to do when you're in a building. The apertures are small and slanted (to deter winged inhabitants), so looking outside gives you the uncomfortable sensation that you're trying to peer out of an airline seat that's awkwardly situated halfway between 6A and 7A. I know, I'm here to see the art—LOOK AT THE KOONS—but I'd also like to see City Hall, the San Gabriel Mountains, and, yes, maybe that flashy, flamboyant neighbor next door.
There's been plenty of talk about the building's ongoing evolution from rendering to reality, with technological issues and ballooning costs that forced changes, delayed the opening, and even lobbed a lawsuit at contractors. Some of the structural issues involved the execution of the oculus (or the belly-button, or the dimple, or the dent in the cheese grater) which is smaller and clunkier than I envisioned but it doesn't really affect the overall success of the building. The oculus would have been a great place to create a window where people could actually look out onto Grand Avenue, but instead the bulge intrudes, almost uncomfortably, into a community room on the second floor, where it feels like you're attending a lecture behind Skeletor's throne.
The cave-like lobby with the veil just outside, photo by Iwan Baan courtesy of The Broad
The best parts of the building are tucked into the buffed concrete folds of the first floor, which has been sculpted into little Hobbit holes, like peek-a-boo windows into the art storage facilities that appear along a darkened staircase. There's an exceptional part of the sidewalk out front where you can slip between the veil and the glass of the building, stepping into what feels like a secret urban cavern.
Being able to walk behind the veil on the ground floor is also what lets you on the trick: For all its visual drama, this building is rather simple in execution. It's essentially a steel and glass frame hung with concrete lace, which is not altogether unremarkable, especially for LA. In fact, Diller says her team drew inspiration from another LA building two miles to the west, the American Cement Building. It was designed in 1964 by the firm Daniel, Mann, Johnson and Mendenhall to showcase the star product of the American Cement Company. Guess what it's made from? 450 precast concrete panels.
The American Cement Building, photo by Larry Underhill via Los Angeles Conservancy
The fact that the building is still visually stunning—if a bit dingy—50 years later is a good sign. But when I visited the Cement Building the other day it also made me realize just how retro the Broad looks. Especially next to an exploded tin can.

You might argue that concrete is part of LA's fabric, prevalent in our midcentury office buildings as well as our freeways (and okay, our river, but maybe not for long). The Broad's concrete has an interesting texture and is kind of sparkly when you get up close, but it's still concrete, the most Throwback Thursday of all materials, no matter how you cast it. Which also might be fine except there's already far to much of it on Bunker Hill, which is essentially just two streets stacked on top of each other.

The Broad on Bunker Hill, with Disney Hall to the right, photo by Warren Air courtesy of The Broad
Although DS+R hasn't designed many buildings in LA, Diller has had more of a hand in building LA's future than one might think: She was the architect consulted for Spike Jonze's film Her. This near-utopian vision of a Los Angeles filled with high-speed trains and skyscrapers, has done more to move the city's urbanism conversation forward than any singular building.
Diller designed The Broad long before she advised Jonze on how to design his LA, of course, but it's funny to think that were he filming it now, The Broad's squat facade would have probably been edited out of the scenes alongside Disney Hall, which makes a prominent cameo in the film. A dozen years after it was built, Disney Hall still looks like an extraterrestrial time traveler whose moment hasn't yet arrived. The Broad looks like a quirky holdover from the '60s that preservationist groups are fighting tooth and nail to save.
That's not a bad thing! And it's not to say that The Broad won't have a role to play in LA. Is it setting the agenda like Disney Hall did? Not really. But I actually think this Dynamic Duo can work together, matte and shiny, to entice a new era of good density and smart development to the hilltop (starting with eradicating a rickety parking garage across the street). There's already a new apartment tower adjacent to its park. And just think, in five years (only five!) a new subway station will open between the two buildings, the first step in knitting together LA's transit into the colorful map from Her we all fantasized about. The Broad will be a part of LA's future just by virtue of its location.
Follow the author at @awalkerinLA
Top photo by Benny Chan courtesy of The Broad