Leap Motion, the company behind the weird gesture-tracking controller for PC and VR, is showing off some pretty interesting tech in the form of an AR headset reference design. Whether or not you'll be able to get your hands on the concept, which incorporates the company's gesture control hardware, is another story. After all, it's not the first open-source mixed reality headset, and doesn't exactly look good. You know, now that I think about it, who exactly is going to bother making this thing besides Leap Motion itself?
Leap Motion announced the North Star augmented reality platform in a series of blog posts documenting the construction of the prototype headset, its design, and desired goal of the project.
The system doesn't exactly exist, though. Instead of creating an actual headset, Leap Motion is letting everyone under the sun have at it by releasing the hardware and software specifications under an open source license. "The discoveries from these early endeavors should be available and accessible to everyone," the company said in its blog post showing off the progress made with its own prototype headset.
G/O Media may get a commission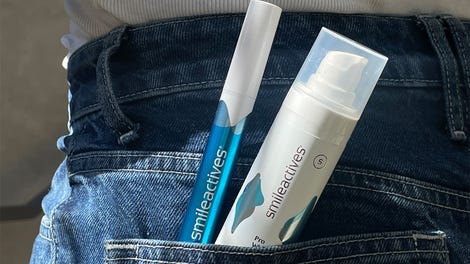 58% off
Whitening Powerhouse Pen & Gel Duo
The North Star AR headset takes the gesture-sensing tech found in the Leap Motion controller and incorporates it into the headset, along with two 5.5-inch displays that project the augmented reality elements onto a transparent lens in front of your peepers. The displays have a speedy 120Hz refresh rate, so animation shouldn't be too choppy.
In the end, Leap Motion's rendering and prototype of its North Star headset looks like the lovechild of Microsoft's HoloLens and a pair of Oakley goggles. It also looks like you're asking for someone to knock your books to the ground while begging for a swirly, but that just might be my middle school trauma rearing its ugly head. Luckily, it's still only a reference design, and the company has announced no plans to create its own line of headsets, so there's more than enough time for any interested parties to tweak its aesthetics.
Bug-eyed look aside, the novel design allows for a much wider field of view of 105 by 105 degrees, and a 1440x2560 resolution per eye. That wide field of view, combined with Leap Motion's expertise in gesture control tech, lets users interact with augmented reality elements (like buttons or dials) with their hands, letting you transform your body into your own personal menu bar. It's all very Mass Effect, which is a win in my book, and a big upgrade over the super small field of view used by the Microsoft Hololens.
Fusing gesture control with VR and AR isn't new to Leap Motion in any way. The company's released attachments in the past that allowed users to combine pre-existing VR headsets like the Oculus Rift with the company's hand tracking gizmo. According to Leap Motion, the North Star concept's "fundamentally simple" design means it should cost "under one hundred dollars to produce at scale." At that price point, one could imagine the technology taking off, held back only by the hardware requirements and its god-awful looks.
On the other hand the last open-source mixed reality platform didn't actually take off either. That was the OSVR, introduced back in 2015, and unlike the North Star it had backing by big players like Razer. Yet no one actually embraced it. Currently, Vuzix makes the iWear, a OSVR-compatible headset, but that's about it in terms of variety. Even OSVR's official site hasn't seen an update since 2016, when it announced OSVR content would be available through Steam.
If Leap Motion wants someone to actually make this thing, it better offer more than some open-source designs and an odd-looking prototype. Still, if I can create my own omni-tool without messing with any Salarian tech, sign me up.