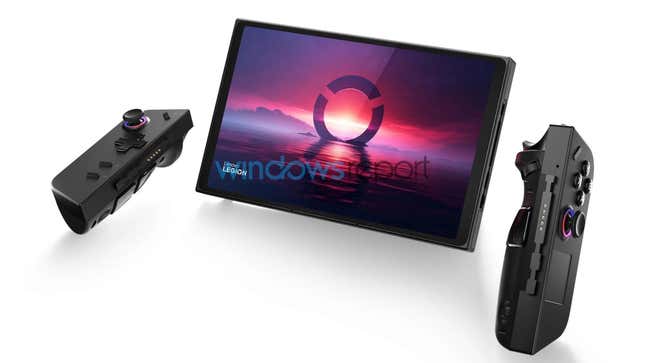 The handheld console market is about to go full-circle. Leaked images of Lenovo's upcoming Legion Go gaming device show that the company has taken inspiration from Nintendo and Valve for its next product, with the silhouette and controls of the Steam Deck plus the snappable, swappable controllers of the Nintendo Switch. After the Switch started the trend of handheld-console hybrid devices, and after all the Steam Deck hype, a company is finally making a more powerful Switch lookalike.
The images courtesy of WindowsReport show the Legion Go has two Joy-Con like side panel controllers that can be removed from the main screen to act as free controllers, one for each hand. Though they act akin to the Switch, these controllers are much more "Pro" than Nintendo's largely flat design.
The main body has all the face buttons players have come to expect from a modern controller, plus what seems like a touchpad akin to Valve's Steam Deck, though only on one side. The left and right joystick are positioned more like a Switch than a Steam Deck (which keeps the joysticks parallel on either side of the screen). The backs of each controller are rounded, and they include two back buttons each on both sides. There's a larger, trigger-like top button plus an extra set of shoulder buttons for each not-Joy-Con.
Though the pictures don't show it, the detached controllers look like they can easily slot into some sort of device similar to a Joy-Con grip in order to play it like a single controller. The images show the device's main body includes a kickstand to play the console on a tabletop. The images show there's two USB-C ports, a power button, a headphone jack, and two volume control buttons. Though it's not entirely clear from the images, it's hard to imagine the device have some sort of HDMI port to connect the device to a larger screen.
Gizmodo reached out to Lenovo for comment, but we did not immediately hear back.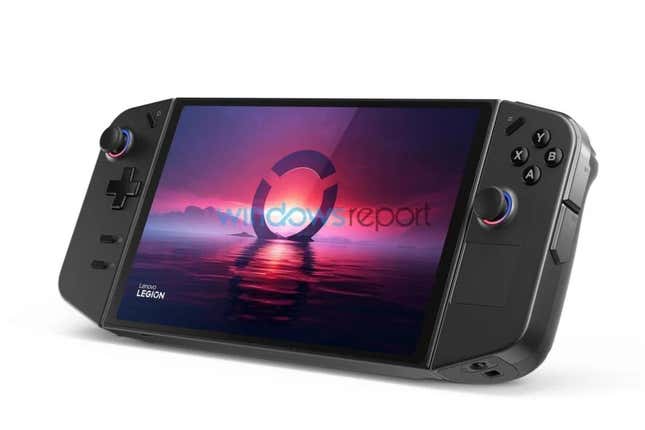 There's something inherently sharable about the removable Switch controllers, which is a good reason why Nintendo's console has remained popular for close to seven years. Part of the reason for that success was instead of a d-pad, the left Joy-Con used directional face buttons so the second player could also play most games that require simplified controls.
Unfortunately, the Legion Go seems like it will use a d-pad on the left, which does put a damper on the ability to share a controller with friends for a quick gaming session. Still, Lenovo could be setting this up as a best-of-both-worlds device for the player who wants to game on the go. Without knowing the full internal specs, it's hard to start guessing at price, but one can expect it will be much more expensive than a Switch and pricier than the loss-leading Steam Deck.
Previous leaks of the Legion Go have noted the device will include an 8-inch screen and is powered with a AMD Phoenix processor, likely something in the Ryzen 7040 series. It's going to be a Windows 11-based device, meaning it should be able to run most games and potentially act as an ill-fitting mobile computer, for those who really want such a device.
The Steam Deck runs on the Linux-based SteamOS, which has meant its become a very customizable device since its initial release. It's doubtful Lenovo will be able to offer the same customizability and emulator support that the Steam Deck can, but we'll have to wait and see what kind of UI Lenovo has created for this upcoming device.
But if Lenovo can get its device out before the end of the year, it may be the perfect timing for a new mobile gaming console. Nintendo isn't expected to release its Switch sequel until the second half of 2024. Valve made its devices slightly cheaper for the Summer Sale, but it's lower-cost, refurbished models have already sold out, and we don't yet have an idea if there will be more stock any time soon.
Plus, the picking is ripe among competitors. The sleaker Asus' ROG Ally is a quality Steam Deck alternative, but it's nowhere near a real revolution. Then there's the $849 Ayaneo Geek, which starts at nearly $200 more than the most expensive 512 GB Steam Deck at $640. A more powerful processor is nice for in-game performance, but it also uses a full-scale version of Windows 11, making it rather annoying to navigate.