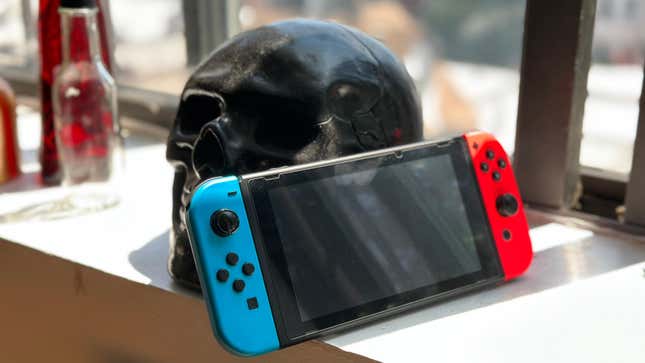 It's been seven years since the Switch first hit the market. Noting how many folks still pop out their Switch for a lengthy subway ride or just how many new, ingenious inventions are still flowing out of Legend of Zelda: Tears of the Kingdom. Knowing all that, Nintendo's next mobile/docked device could be far more of an iteration compared to previous console cycles, at least according to recent reports.
What Was Your First Experience with Super Mario Bros? | io9 Interview
VGC reported on Monday that multiple, unnamed sources with knowledge of Nintendo's plans say that the company wants to drop a new, next-gen console in the second half of 2024. According to the report, many things are staying the same on the Switch sequel, including the ability to use physical cartridges to play games, as well as a portable mode to play on the go. The new console could come with a much bigger hard drive than the Switch's miniscule 32 GB (the OLED model sits at 64 GB). However, the next device won't be looking to mainstream the OLED screen, and instead keep with the LCD in order to reduce costs.
The 2024 window was hinted at by Nintendo parts suppliers last week. Despite there being reports of a major slowdown of Switch console sales after reaching 125 million unit sales up to March, 2023, Nintendo doesn't have any plans for new hardware in the current year. Instead, the company is trying to stretch out the lifespan of the Switch as much as possible. Nintendo is releasing a new Mario sidescroller in October, which may hold players over until a slate of big releases near Christmas time in 2024.
Gizmodo reached out to Nintendo for comment, but we did not immediately hear back.
The company is planning to have a heavy stock available to try and meet what will likely be an excessive demand and to avoid the issues that plagued consoles like the PlayStation 5 at launch.
More than that, this post-mid-2024 release window meets with some of Nintendo's past habits. The company released the Switch midway through the PS4 Xbox One lifespan, a move that eventually proved successful. Nintendo does have a history of making hardware that either catches fire or flops. Take the N64 transition to the Gamecube, or the Wii to the WiiU. Still, very few people would object to having a more capable Switch console with a better battery and upgraded graphical capabilities.
Nintendo president Shuntaro Furukawa has himself said in an investor's call they want to make a "smooth transition" from Switch customers to the next console. A big sticking point for many Switch owners will be backward compatibility. By every standard, the Switch is an aging console. Last year, analyst David Gibson tweeted that a conversation with the Japan-based company hinted that Nintendo's next console could be backward compatible. The company does want to convert its more than 100 million-strong user base to the next console, so some way to play your old catalog would only make sense.
Still, there's still not a lot to go off of. Whether this upcoming console is more of a Switch Pro, or a different device altogether, Nintendo seems to have hit upon a simple truth: folks prefer an accessible, portable console with high-quality games. That's why Sony's recently announced handheld streaming device was such a disappointment for those of us who wanted to see more Steam Deck-likes from console makers. That's why potentially keeping it LCD makes sense for most players who might not want to spend too much if they still enjoy their Switches.
The best thing Nintendo can do with the next console is modernize the Switch so that more games can run natively on the console without resorting to streaming. Oh, and if they could finally fix their failing joycons and silly stick drift, that would be lovely.