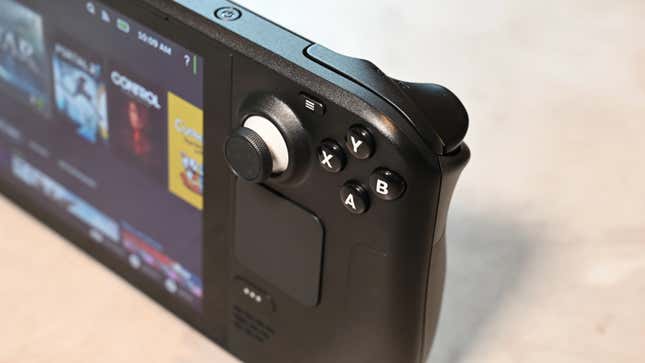 Update: They're real! For those thinking about getting a Steam Deck but who recently missed out on sale prices, Valve now says customers will be able to buy used, refurbished Steam Decks at discounted prices.
Panic's Playdate Handheld is Almost Here
On Monday, Valve finally revealed its new page for "Certified Refurbished" Steam Decks the company says functions like inputs, screen, and battery health were "fully tested" by the company with a full factory reset and software update. Still, the devices might have some cosmetic wear and tear. There is limited supply for the devices, though they do come with the full 1-year warranty akin to other Valve hardware.
The refurbished 64 GB Steam Deck starts at $319, while the 256 Gb and 512 GB editions go for $419 and $519, respectively. These are the same prices seen during the recent Steam Summer Sale. The company said it will be a first come, first served kind of deal.
Original Story:
As SteamDB-creator Pavel Djundik picked up late Monday, the Steam database briefly included listings for three different "Certified Refurbished" Steam Decks. Valve quickly pulled the listings, and now links to the pages redirects to the main Steam Store site. However, Valve wasn't quick enough on the draw before other users pulled screenshots of the cheaper devices.
The listings for the 64 GB, 256 GB, and 512 GB refurbished Steam Decks went for $319, $419, and $519 respectively. As PCGamer first pointed out, these prices are effectively the same as the devices went for during the recent Steam Summer Sale, which marked the first time the handheld consoles officially went for cheaper. Normally, the Decks cost $399, $529, or $649. According to the screenshots, the refurbished models will also only go on sale in Europe and North America.
Gizmodo reached out to Valve for comment, but we did not immediately hear back. There's still quite a few details we'd want to know about before getting too excited. For one, we don't know if the refurbished devices will include a warranty, as the company currently allows for one year of fixes due to defects.
And while there's no word yet on a release date for the refurbished models, or if we'll get them at all, we also don't know how often Valve plans to put its premiere handheld console on sale. The company is already a loss-leader in the gaming handheld space, as it sells for far cheaper than any of its rivals. Valve boss Gabe Newell told IGN back in 2021 the pricing model was "painful" though it was necessary for enticing people into the market. Asus' ROG Ally is still $70 more expensive than the competing 256 GB Steam Deck Model. The 512 GB Ally sits at $700.
The sale prices could have been a test for how many more people would buy the device if it were even cheaper. We don't have official data on Steam Deck sales, but the device was regularly in the top two selling positions on Steam in the first half of 2022, according to SteamDB. It's still regularly found within the top five of Steam top sellers week after week. In April, two months before the sale, research firm Omdia reported the Steam Deck would surpass 3 million units sold by the end of 2023.
But more competition could be eating into Valve's prospects. Lenovo might be working on its own handheld console. Nintendo could be gearing up for a new Switch-like console by next year. Likely, the new portable console would have better hardware than the 7-year-old Switch, but it's hard to see a company like Nintendo coming up with something to match the Steam Deck's hardware even two or three years behind, especially if it doesn't want to sell something vastly more expensive than even the $350 OLED Switch.
Update 08/08/2023 at 2:40 p.m. ET: This post was updated to reflect the official announcement for the refurbished Steam Decks.
---
Want more of Gizmodo's consumer electronics picks? Check out our guides to the best phones, best laptops, best cameras, best televisions, best printers, and best tablets. If you want to learn about the next big thing, see our guide to everything we know about the iPhone 15. Click here to save on the best deals of the day, courtesy of our friends at The Inventory.