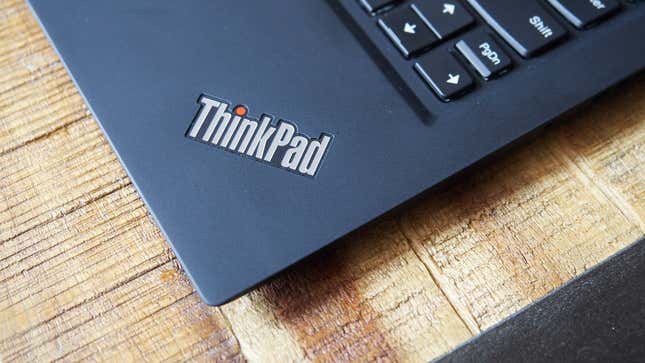 All things considered, the Lenovo Thinkpad X1 Carbon is an amazing laptop. It's crazy light and powerful with a retro design that will warm your nostalgic little heart. But there is the possibility it could burst into flames, the company announced today. Which is, you know, a bad thing for a laptop.
Twitter Is Shifting Right | Future Tech
The recall notice was issued concurrently by Lenovo and the United States Consumer Product Safety Commission. According to the Commission, the recall affects approximately 78,000 laptops in the US (and an additional 5,500 in Canada). Lenovo claims the problem was first noticed when three different users reported that the batteries in their Thinkpad X1 Carbons were overheating. The affected laptops were made between December 2016 and October 2017.
The problem is caused by an "unfastened, small screw, left in the unit during manufacture." The screw could potentially damage the laptop's battery and, as lithium ion batteries are notoriously delicate, this could lead to thermal runaway, which results in batteries deforming, overheating, and potentially catching on fire.
However it should be noted that Lenovo claims no laptops have actually caught on fire to date and says it has "received no reports of damage to persons or property, other than to the laptop PCs."
However the potential remains and Lenovo has outlined how you can figure out if your laptop is affected and what to do to get your device fixed on its website.
While this recall is significant, it's certainly not the first recall of its kind, nor is it the largest. Samsung still holds that honor after the Galaxy Note 7 developed an unfortunate habit of bursting into flames. In that case many phones actually caught on fire and some owners even claimed major property damage from the flames.