The new Victor Creed, LIev Schreiber, let it slip that he was originally approached for the role of a young William Stryker in Wolverine, but his knowledge of Sabretooth steered producers in another direction.
According to The National Post's Ampersand, it was Schreiber himself that suggested he take on the role of Victor Creed.
"I read the comics before I got offered the part," says the 41-year-old. "I mean, I knew the character really well. Initially I'd been asked to play Stryker and I said, 'Is there any chance that I might be able to play this Victor Creed guy?'" he recalls.
See, kids — read your comics, because if not, you could miss up the opportunity of a lifetime. But Schreiber didn't just want to play the nemesis badass of the movie, he also knew there was another layer to the character. A deeper layer, and to be honest I'm dying to see what Schreiber is going to bring to the table on Creed's inner turmoil and anger issues.
"It's like rather than just say that Sabretooth's a violent brute, I wanted to find out what makes the brute tick," he says. "Hopefully people will like it."
G/O Media may get a commission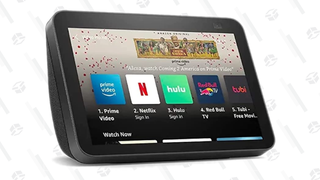 X-Men Origins: Wolverine will be out on May 1, 2009