The second real day of CES 2009 kicks off with Sony CEO Howard Stringer's keynote speech. Sony said yesterday they saved BIG product announcements for the gadget emperor himself. What are they? (Besides Tom Hanks.)
Deadly Mississippi Tornado Kills More Than 2 Dozen | Extreme Earth
Apparently, a trailer for Angels & Demons. Tom Hanks is here! He has Betamax regret! His first real gadget was a Sony Trinitron. Hilariously self-conscious, mocking the fact he's shilling for Sony. All he ever sees is Sony, Sony, Sony. And uses Sony Sony Sony. Except the teleprompters! LG.

Here's Sir Howard Stringer. Tom: "I'm whatever Sony wants me to be, Howard." Tom is hilarious.
3D glasses, "unlike any other prototype before. They let you watch a movie while walking around. "Tom why don't you try?" "Oh look, they're so cool and hip...They're going to get even better than they are now? I'll be checking the Fedex." "Will you take the hold off my paycheck for Angels and Demons now?"
G/O Media may get a commission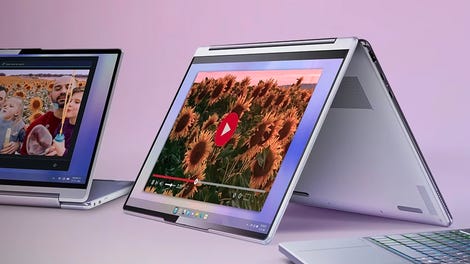 up to 70% off
Lenovo Spring Clearance
Tom exits, being pulled into realm of Casio and Samsung. "Howard save me, you're a knight!"
Howard: "I'm not recession proof." He has seven principles for the industry: Fusion of industries, open technologies (Linux, consumers expect choice), social networking, squeezing more money out of consumers (he calls this a "value chain" and "good business," go green, etc. Nothing unobvious or mindscrewingly revolutionary.
By 2011, 90 percent of Sony products will connect to Internet and each other.
Heeeeere's the G3 Wi-Fi web browser camera. They've already uploaded photos of Tom and Howard using the camera to Picasa, and then sent it to a Bravia TV on stage. Available now for "an extraoridinarily reasonable price."
Connected photo frame/alarm clock/screen thing with Chumby power—plays video, Big Ben alarm clock. Very cool. Quoting Letterman on weather from it: "It's so cold in NY right now, Bernie Madoff is actually looking forward to burning in hell."''
Flex OLED protoype, eco-friendly. "How many people get a chance to squeeze Beyonce? I hope Jay-Z isn't in the room."
Sony sells more HD products than anyone else, they think they'll benefit from DTV. We'll see!
Pixar dude John Lasseter is here. "Sound check: Is my shirt loud enough in the back?" I want one. He's here to pimp Blu-ray: "You can't go back." Showing Wall-E on Blu-ray. Man I love that movie.
He's demoing Sleeping Beauty BD-Live content—menu represents real-life weather, kind of cool. His kids beat his ass at Cars Blu-ray game. Trailer for their upcoming movie Up. Looks awesome, and funny. More Tom Hanks talk: He's working on Toy Story 3.
Talking PSP and PS3 and how they interact. Kaz Hirai coming up. Talking about PlayStation Network and how it's expanding what you can do with PS3.
New free MMO called Free Realm for boys and girls, tweens and teens. Launching on PC first. Looks like medieval Second Life. MTV dumping 2000 hours of programming on PSN video. Hello, Real World Brooklyn! EA is now onboard PlayStation Home, bring more games and yay, contextual ads to "savvy consumers." Overall though, no new PlayStation announcements. Where's Netflix streaming? Seriously dude. Even my pants has that now.
America's doctor, Dr. Oz is getting his own show thanks to Sony. Find out why your penis doesn't work the way it used to, everyday. Oh, by the way, you're a fatass. He just said Sir Howard is bulbous dude. He should be six foot six to match his weight. Drop your belly fat or DIE. Outside of a fried food convention, this has to be the most ironic place he could drop this speech. High fructose corn syrup is the devil, says Dr. Oz. I knew it!
Sony is all up in the new Yankees stadium. 550 Bravia LCDs. The whole park is on,e giant Sony commercial. Reggie Jackson is here. Says he can't wait to see the new Sonyized Yankee Stadium. New candy bar: Reggie Bar. Tom Hanks loves it.
Talking up green products: Greenheart bio-plastic, Eco Bravias, etc.
Here we go; 3D announcement. We're supposed to put on 3D glasses now. 3D Cars clip in Tokyo drag race. Gran Turismo in 3D. 3D footage from Virginia Tech at Orange Bowl.
Dreamworks Animation CEO Katezenberg up to talk about 3D. Two revolutionary events in the history of cinema: The arrival of sound, then the arrival of color. He thinks 3D will be the third. (How conveniently poetic.) "It's not your father's 3D." It's 3D that uses polarized lenses and dual projectors (so you do still need glasses, even though Sony insists that they're different 'cause they is state of the art and less dumb looking, from Ray Ban.) Showing 3D clip of CGI flick Monsters and Aliens, with a giant robot fighting a giant girl and some monsters—pretty cool.
Sir Howard's back up with a Sony Ericsson phone, has Gracenote for identifying songs. And hey, our friend the Vaio P.
Hello, Usher. He's in 3D too, but no glasses required. Usher: "Yeah I do.... know a lot about technology. *Pause* Sony technology." He just had two sons, captured experience with... Sony. Howard asks if Usher misses the album. Usher says Sony Ericsson lets him make an album. Also mentions Sony sponsored his Broadway run on Chicago, which Tom Hanks' wife was also in. Woooo, the incestuous commercialization—as entertainingly, ironically self-aware as they're trying to make it (and it is)—is mud-pie thick.
Howard wrapping up, talking about how they make dreams, rainbows and economic revitalization happen.
And that's it!