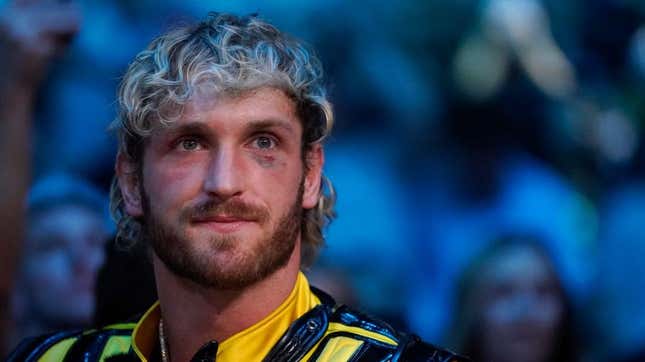 The Community Notes fact-checking system on X, formerly known as Twitter, linked to a porn video in a post debunking a rumor about Nina Agdal, a Danish model and fiancée to influencer turned boxer Logan Paul.
Even Twitter Can't Kill Twitter | Letter From the Editor
Over the last week, a video depicting oral sex performed by a woman who resembles Agdal threw some circles of the internet into a tailspin. Agdal has been at the center of a targeted harassment campaign orchestrated by MMA fighter Dillon Danis, who is scheduled to fight Paul in an upcoming match. Danis spent recent weeks posting pictures of Agdal with other men and memes lambasting her as promiscuous in an apparent attempt to humiliate his opponent. Representatives for Paul and Agdal did not immediately respond to requests for comment and have not said anything publicly about the matter.
A meme describing the video went viral on X over the weekend: "NAH I JUST SAW THE LOGAN PAUL'S GF VIDEO ITS WORSE THAN YOU CAN IMAGINE." 
Then X's Community Notes system sprung into action, adding context below the tweet. Fact checkers wrote, "The widely circulated video appearing to show Nina Agdal giving another man oral sex is not Nina Agdal. This is confirmed when, later in the video, the woman is shown with two star tattoos on her neck, while Nina Agdal doesn't have any tattoos on the back of her neck."
Community Notes is a user-run system built to fact check content on the social media platform. People can submit fact-check labels with links and explanations for questionable tweets, which are then voted on by other users in the Community Votes program. If a fact check is rated as "helpful" by enough people, the label is added to the tweet.

The user who fact checked the meme about the porn video thought it would be useful for people to see the video in question, and a preponderance of Community Notes users apparently agreed. The fact-check includes a link to the video, which does not depict Agdal, on the porn platform SpankBang.

X maintains that it has no control over the Community Notes system and is unable to add, remove, or edit the fact check labels. X did not respond to a request for comment.