Roughly three million years ago, when I'd just started at Gizmodo, Logitech's Performance Mouse MX won our Best Wireless Mouse Battlemodo. It was a triumph of ergonomics and it was a joy to use. Well, almost four years later, it's received an update: the MX Master.
Rather than mess with success, Logitech retained everything that was good about the original, then added some improvements. It's fantastic.
What Is It?
It's a mouse! You use it for your computer. Remember them? It hurts your hand less than a trackpad? Ringing any bells?
Why Does It Matter?
Because it's really good at mousing. Because the previous version was tremendously popular. Because you finally don't need a dongle.
G/O Media may get a commission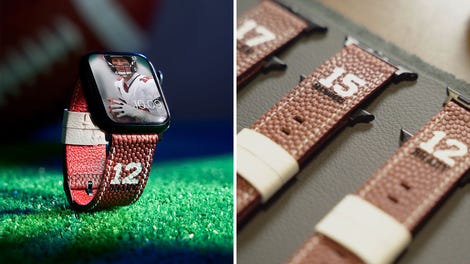 Official NFL PRODUCTS
Official NFL Apple Watch Bands
Design
It looks really similar to the Performance Mouse MX. It's meticulously crafted to fit your right hand. There's that lovely thumb-rest, which has a hidden button that lets you perform gestures when you hold it down. The new MX Master has a new thumb wheel and two more buttons right above it, too. Up top you've got your left and right buttons, a clickable, speed-adaptive scroll wheel (I'll explain in a sec), and a button to release the wheel's click mechanism, should you prefer it free-spinning instead of all clicky. The top scroll wheel doesn't tilt side to side anymore, but you can use the new thumb wheel to scroll horizontally through things.
On the nose is a micro-USB port which you'll use to charge this rodent, since it doesn't use replacable AA batteries any more. And there's a button underneath to control which device you want to use it with (you can pair it with up to three Bluetooth devices).
Using It
Be still my thumb! This thing is great. For starters, you don't need to use a USB dongle to get connected. You can just pair it with your computer via Bluetooth Smart (as long as it's new enough to support that protocol). I've only got two USB ports on my laptop, and not having one of them tied up with a mouse is very nice. Mind you, the mouse didn't initially work at all with Mavericks on my three year old MacBook Pro, but as soon as I updated to Yosemite (which has better Bluetooth support) it worked like a charm. But there's also still a dongle if you need one.
By downloading the Logitech Options app I can customize what each button does, which ended up being pretty sweet. I don't scroll side to side very much, so I set the new thumb wheel to switch between tabs in Chrome. Very convenient.
One of the MX Master's banner features is the speed-adaptive scroll wheel. What that means is that when you scroll with the wheel slowly it resists a little bit and clicks as it go, delivering some haptic feedback. But give it a flick and it starts spinning freely, which lets you quickly scroll through long documents and pages. As it slows down, it clicks back into clicky mode. It's neat. Alternatively, you can hit the button below it and keep it in free spin, but I find that I accidentally bump it when I'm trying to click with the wheel as my third button.
I've found the mouse to be extremely responsive. The Darkfield Laser works on basically any surface, including a glass window (I tried it). It also slides very smoothly over even less uniform surfaces, like my wooden desk which has some pronounced grain and very little varnish.
The buttons all offer a satisfying amount of click. The battery should last you 40 days, and you can use the mouse as it charges, if you like.
My only issue is that I really like to be able to switch between hands with my mouse. I know that's kind of weird but I trained myself to do it when I started getting some wrist problems a few years ago. This is not an ambidextrous mouse. It fits the right hand so perfectly that the ergonomics are all way off (and awkward) if you use it with your left. Logitech used to make left-handed versions of their mice but, according to the company itself, "no one bought them and Logitech has found that even some left handers use their right hand with a mouse." So, yeah, bummer for the southpaw mouse-users out there.
Like
The ergonomics are superb. It's super accurate and scrolls smoothly. It connects via Bluetooth to up to three devices and it has a built-in rechargeable battery. The thumb wheel is a nice addition. Looks like an alien fighter ship.
No Like
Really just built for the right hand, so I can't switch back and forth. It's a bit pricey. I wish the thumb-wheel could click, too, and I wish there were more expansive options for customizing the buttons.
Should You Buy It?
I mean, if you don't mind spending $100 on a mouse, then yes. It's the best mouse I've ever used, hands down (see what I did there?). That said, $100 isn't cheap, especially when your laptop already has a trackpad and when there are a lot of decent mice out there for half the price. I will say that it's definitely a worthy upgrade from the former champ, so if you're at your desk a lot, and you want maximum hand-comfort, this is the way to go. [Logitech]